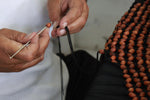 What is Circular Fashion?
What is Circular Fashion?
What is Circular Fashion?
How each purchase makes an impact.
What we wear and buy can say a lot about who we are and what we believe in. Although it may seem miniscule, the day to day purchases do add up. And believe it or not, the clothing you have on has an impact on this planet as well. Each piece of clothing tells a story, of where they came from, what they're made of, and what their destiny is. It is up to us as consumers to be conscious of the value, integrity, and uniqueness of these pieces and to appreciate Fashion for what it is: Art made by the hands of Humans. 
What is Circular Fashion? 
Circular Fashion is a system designed to eliminate waste and reduce pollution by making new materials out of old materials. For example: using post consumer plastic water bottles and turning them into polyester fabric. Currently, the fashion industry is working through a linear system. Make, use, dispose. There are plans in place trying to change the current system from dispose to reuse. These plans can help us all to shift from a wasteful, greedy linear system, to a more flowing, functional, circular one. We all can take part in this shift, and each item we buy contributes to it, or it doesn't. 
How can we contribute to a more circular economy and world? 
There are plenty of ways we can all contribute to a more circular world, and in fact daily habits we can practice that can even make our own lives less cluttered and free flowing. Investing in pieces that you know you'll wear over and over versus fast fashion items or something you buy for just one occasion. Cleoebella creates timeless styles with high quality natural materials, and artisanal craftsmanship, ensuring each piece can be cherished for many generations. We only make what we need to, and use up whatever is left over as much as possible. Another way we can contribute to circularity is with the idea of reselling items, or buying preloved and vintage treasures. When we buy something that has been preloved, we are prolonging the life of that item. Instead of it maybe sitting in a resale store for a year or so, being shipped somewhere far, and becoming someone else's waste. You can add integrity to something just by knowing its value and treating it as such. We love the idea of reselling fashion, especially if it helps to remind people of the value of each and every piece. There are already platforms that are changing the way we value fashion. Like The Real Real reselling luxury items that deserve to be loved for much longer. Buying a luxury item that may have gone up in value because of how unique and rare it is has become a worldwide phenomenon that is gaining momentum by the day. A 27 billion dollar industry that may change the way we see fashion forever, and maybe for the better. Other options are platforms like Tradesy or clothing renting like Rent the Runway for other ways to buy or resell preloved or vintage pieces. 
What Cleobella is doing.
Another way we can contribute to a more circular world is buying products that are made with circular materials. Cleobella is working hard to find the best circular natural fiber that we love, one we can rely on, and trust. Creating pieces that stand the test of time and can be passed down for many generations is what we do. Cleobella only uses natural fibers like our GOTS Certified Organic Cottons, and we are excited to be able to offer natural circular fibers to our Cleobella Women to choose from.
Until then, we will be using all of our scrap and left over deadstock fabrics to make smaller treasures and pieces. Ensuring low waste practices and using only what we need. Cleobella is cut to order for our wholesale accounts. We only make what we absolutely need to, that is what makes each piece so special. There are 100 billion items being made a year in this world, that is over 250 million pieces a day. It is up to us as humans to be more conscious of what we are buying, what we do with our purchases, and how we can make a difference just through our habits.