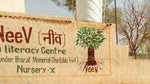 We Support Girls
We Support Girls
We Support Girls 
How Cleobella is uplifting women and girls, locally and internationally.
As a team of women, mothers, and daughters and in honor of International Day of the girl, we want to share all the ways Cleobella is supporting girls everywhere!
The organizations we support: 
Girls Inc. was founded in 1864 and they focus on the development of the whole girl, mentoring, supporting, and guiding girls in an affirming, pro-girl environment. As a woman owned brand, our support for women is global. Cleobella was founded and continues to creatively flow through the hard work and dedication of women and would not be the brand we are today without them. Women are crucial to our survival and success. Empowering females of all ages, everywhere, is something that is very near and dear to our hearts. 
IBU Foundation uplifts the work of women artisans around the globe. Their investments provide design, leadership, and business training. As well as a safe workspace, tools, and supplies for these women. Every woman deserves to create freely without having to worry about expenses or other harmful variables. We are committed to supporting women artists, helping to provide creative opportunities, and supporting all women, everywhere.
Our team in India wanted to go above and beyond to celebrate the girls locally in their community. Our partners are extremely grateful to celebrate this day and have shared with us why it is so very important. 
International Day of the Girl focuses on bringing awareness to gender inequalities and helps to amplify the rights and voices of girls in local communities. Empowerment of girls is an important issue to fight for and Cleobella will never give up on girls and women everywhere. All women and girls deserve freedom of expression,  joy, and boundlessness. As a way for our partners to give back on this day, they shared Cleobella garments with Neev, India. Neev,  is a literary center in India, for girls' education and support. Our Cleobella team supported them and donated clothes to these girls. "The young girls loved the clothes and were delighted to have their dreams come true which otherwise is not possible for them to afford or to get new clothes easily. A real example of pure happiness, regardless of race and language. These moments help to remind them they can live their lives to their full potential." Cleobella lives for moments like this and hopes to be able to one day help all girls everywhere.
Cleobella has always been driven by the divine femininity of women, and intentionally supports them in any way we can. We choose to donate 1% of proceeds from each purchase to organizations that are breaking barriers and making a difference for women and girls globally. Cleobella selected accredited non profit organizations that are supporting girls domestically and female artisans around the world. 
Cleobella also highlights our Cleowomen each month and features a female entrepreneur that inspires us. Women help to guide the world and these conversations are so very crucial in helping to motivate other women and young girls to keep moving forward. Together we can move mountains, and help to ignite lasting changes that can positively affect women and girls around the world. 
How can you help us support women? On cleobella.com checkout, we have given our customers the option to have 1% of the proceeds from their purchase be donated to an organization of their choice. Cleobella's heart grows through these positive impacts made. We are forever humbled to be able to have these meaningful conversations and share these stories with all of you!
Other ways to support are by donating directly to these accredited foundations: