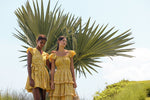 Unleash Your Summer Style
The Five Best Cleobella Sundresses for Your Wardrobe
Unleash Your Summer Style: The Eight Best Cleobella Sundresses for Your Wardrobe
Summertime is here, and with it comes a world of sunshine and endless possibilities. It's a season that calls for vibrant colors, flowing fabrics, and breezy styles that capture the essence of carefree days. Look no further than Cleobella's exquisite sundresses to elevate your summer style. In this blog, we present to you the five best Cleobella sundresses that will make you feel like a bohemian queen all season long. Get ready to unleash your summer style with these captivating dresses that embody the spirit of sunny adventures.
What makes a great sundress?
A good sundress is characterized by a combination of style, comfort, and versatility, making it a wardrobe staple for warm weather. Firstly, the design of a great sundress should reflect a sense of effortless elegance. It typically features a flattering silhouette that enhances the wearer's figure, such as an A-line or fit-and-flare shape. The dress may have delicate details like a sweetheart neckline, spaghetti straps, or an open back, adding a touch of femininity. The length of a sundress is usually mid-thigh to knee-length, allowing for comfortable movement and breathability.
In terms of fabric, a good sundress is made from lightweight materials that are ideal for hot weather, such as cotton, linen, or chiffon. These fabrics offer breathability and help to keep the wearer cool and comfortable throughout the day. The dress should also be lined to ensure opacity and prevent any transparency issues. Additionally, vibrant colors, playful prints, and floral patterns are commonly seen on sundresses, as they evoke a sense of cheerfulness and match the lively atmosphere of sunny days.
Another key feature of a good sundress is its versatility. It can be dressed up or down, depending on the occasion. A sundress can be paired with sandals or flats for a casual day out, or dressed up with wedges or heels for a more formal event. It can be accessorized with a wide-brimmed hat, sunglasses, or a statement necklace to complete the look. This adaptability makes a sundress suitable for a variety of settings, from beach trips and picnics to garden parties and brunch dates. Overall, a good sundress is a perfect blend of style, comfort, and versatility, making it a must-have garment for any summer wardrobe.
An additional aspect that sets a good sundress apart is its attention to detail. Fine craftsmanship and thoughtful construction play a significant role in elevating its overall appeal. Well-finished seams, neatly aligned patterns, and carefully placed darts contribute to a polished and refined look. The dress should have a well-fitted bodice that flatters the upper body while allowing for ease of movement. Adjustable straps or a smocked back can add an extra level of comfort and flexibility to accommodate different body shapes. 
Furthermore, a good sundress takes into account the practicality and functionality needed for warm-weather activities. It should provide ample coverage while still allowing the skin to breathe. Wide shoulder straps or sleeves, as well as modest necklines, ensure comfort and sun protection. Additionally, a sundress with pockets is always a delightful bonus, offering convenience for storing small essentials like keys or a lip balm. The dress should be easy to slip on and off, without complicated closures or restrictive elements, allowing for effortless wearability on carefree summer days.
In summary, a good sundress combines elements of style, comfort, versatility, attention to detail, and practicality. It embodies the essence of summer with its lightweight fabrics, flattering silhouette, vibrant colors, and playful prints. Whether you're strolling along the beach, attending a garden party, or enjoying a casual outing, a well-designed sundress is a go-to choice that effortlessly captures the essence of warm-weather fashion.
How to Choose the Perfect Sundress
Choosing the perfect sundress involves considering various factors such as body shape, personal style, occasion, and comfort. Here are some essential tips to help you find the ideal sundress:
Know Your Body Shape
Understanding your body shape is crucial in selecting a sundress that flatters your figure. For instance, if you have an hourglass shape, opt for a dress that cinches at the waist to highlight your curves. If you have a pear-shaped body, choose a sundress with an A-line silhouette that skims over the hips and accentuates the waist. Experiment with different styles to discover what works best for your body type.
Consider the Occasion
The occasion plays a significant role in determining the style of sundress you should choose. For casual daytime events like picnics or beach outings, go for relaxed and breezy styles such as flowy maxi dresses or simple A-line dresses. For more formal occasions like garden parties or weddings, opt for sundresses with more structured silhouettes, delicate details, or elegant fabrics like lace or silk.
Assess Your Personal Style
Sundresses come in a wide range of styles, from bohemian and floral to classic and minimalist. Consider your personal style and what makes you feel confident and comfortable. If you love vibrant colors and bold patterns, opt for sundresses that reflect your energetic personality. If you prefer a more understated look, choose dresses in neutral tones or timeless designs that can be easily accessorized.
Fabric Choice and Comfort
When selecting a sundress, pay attention to the fabric. Look for lightweight and breathable materials like cotton, linen, or chiffon, which help keep you cool in hot weather. Consider the dress's lining as well, ensuring it provides opacity and prevents transparency. Additionally, choose fabrics that have a comfortable stretch or relaxed fit to allow for easy movement and all-day comfort.
Experiment with Length and Neckline
Sundresses come in various lengths, ranging from mini to midi to maxi. Consider your height, body proportions, and personal preference when choosing the dress length. If you're taller, you can pull off longer lengths, while petite individuals may opt for shorter styles. Similarly, explore different necklines, such as halter, sweetheart, or off-the-shoulder, to find the one that complements your upper body and enhances your features.
Remember, choosing the perfect sundress is ultimately about finding a dress that makes you feel comfortable, confident, and reflects your personal style. Trust your instincts and have fun experimenting with different styles, colors, and patterns until you discover the ideal sundress that makes you shine in the summer sun.
8 Essential Cleobella Dresses to Add to Your Sundress Collection
1. Lorenza Ankle Dress | Shea
Indulge in the captivating beauty of the Lorenza Ankle Dress. Its enchanting floral patterns and flowing silhouette create a whimsical and romantic look that's perfect for any summer occasion. With a unique front tie and a stunning silhouette, it will keep your wardrobe feeling fresh for the season. 
Whether you're attending a garden party or enjoying a sunset beach stroll, the Lorenza Ankle Dress will make you feel effortlessly elegant and radiant. Shop the Lorenza Ankle Dress now.
2. Dita Midi Dress | Cassia
For a touch of boho-chic charm, embrace the Dita Midi Dress. With its delicate ruffle details and flattering silhouette, this dress exudes casual sophistication. Its lightweight and breathable fabric makes this the perfect dress for a day spent in the sun. 
Whether you're exploring local markets or having brunch with friends, the Dita Midi Dress will keep you cool and stylish throughout the day. Shop the Dita Midi Dress now.
3. Hazel Mini Dress | Aurora
Let your playful side shine in the Hazel Mini Dress. Its vibrant prints and flirty design make it a go-to choice for summer adventures. With its flattering silhouette and bold hand woodblock print, this dress can be passed down for generations to come.
Whether you're dancing at a music festival or enjoying a seaside getaway, the Hazel Mini Dress will make you feel like a ray of sunshine wherever you go. Shop the Hazel Mini Dress now.
4. Cecilia Ankle Dress | Shea
Channel your inner island beauty with the Cecilia Ankle Dress. Its flowing fabric and intricate details create an ethereal and captivating look. Soft dreamy fabric with a stunning high slit opening and ruched details, this piece standouts in a crowd.
Perfect for sunset walks along the shore or attending a summer soirée, the Cecilia Ankle Dress will make you feel like the epitome of summertime grace. Shop the Cecilia Ankle Dress now.
5. Florence Midi Dress | Shell
Embrace simplicity and effortless style with the Florence Midi Dress. Its clean lines, and shell tones make it a versatile staple for your summer wardrobe. Fun and classic with unique features, this dress is the staple you need this season.
Whether you're exploring hidden gems in the city or enjoying a leisurely day at a beachside cafe, the Florence Midi Dress will be your go-to choice for chic and comfortable elegance. Shop the Florence Midi Dress now.
6. Zola Maxi Dress | Isla
Elevate your summer wardrobe with the Zola Maxi Dress. Its long, flowing silhouette exudes effortless glamour, while the unique Isla print adds a touch of carefree charm. The dress features a flattering empire waist and smocked back for a customized fit.
Whether you're attending a summer wedding or enjoying a romantic evening under the stars, the Zola Maxi Dress will make you feel amazing. Shop the Zola Maxi Dress now.
7. Cherith Midi Dress | White
Embrace the carefree spirit of summer with the Cherith Midi Dress. The lightweight fabric and breezy design make it the perfect choice for hot and sunny days. This classic, white sundress dress features a smocked bodice, and shoulder ties across the back for a comfortable and stylish fit.
Whether you're exploring a new destination or picnicking in the park, the Cherith Midi Dress will keep you feeling cool, stylish, and ready for adventure. Shop the Cherith Midi Dress now.
8. Lalita Mini Dress | Magenta
Make a statement with the Lalita Mini Dress. Its vibrant Magenta hue and playful bow details create a fun and flirty look. The dress features a fitted bodice, a bubble skirt, and a fully smocked back for a personalized fit.
Whether you're hitting the dance floor at a summer party or enjoying a night out with friends, the Lalita Mini Dress will ensure you stand out in style. Shop the Lalita Mini Dress now.
Why You Need a Classic Sundress for Your Wardrobe
A sundress is a wardrobe essential for various reasons, offering several practical and style-related benefits that make it a must-have item for many people during warm weather. Firstly, a sundress provides comfort and breathability in hot and humid climates. Its lightweight fabrics, loose or flowy silhouettes, and often sleeveless or short-sleeved designs allow for maximum airflow, keeping the wearer cool and preventing overheating. The dress's relaxed fit also allows for easy movement and prevents the feeling of constriction, making it ideal for outdoor activities, beach trips, or simply enjoying the sunshine.
Secondly, a sundress offers versatility and effortless style. It can be effortlessly dressed up or down depending on the occasion. Whether you're heading to a casual outing with friends, a family gathering, or even a semi-formal event, a sundress can be styled accordingly. Pair it with sandals or sneakers for a relaxed and laid-back look, or dress it up with wedges or heels for a more sophisticated ensemble. Accessorize with a hat, sunglasses, or a statement belt to add personal flair and complete the outfit. The wide range of prints, patterns, and colors available in sundresses allows for individual expression and the ability to showcase one's personal style.
Furthermore, a sundress offers a sense of ease and simplicity in getting ready. It eliminates the need for coordinating separate pieces and allows for a quick and effortless outfit choice. Instead of spending time selecting tops and bottoms, a sundress is an all-in-one solution that saves time and eliminates decision fatigue. It's a grab-and-go option that ensures you always have a stylish and comfortable outfit ready for warm-weather occasions.
Lastly, a sundress brings a touch of femininity and playfulness to one's wardrobe. With its flowing skirts, delicate details, and often vibrant colors or floral patterns, it exudes a carefree and joyful spirit. The sundress is associated with leisurely summer days, picnics in the park, and strolls on the beach. It embraces the relaxed and laid-back atmosphere of the season, allowing the wearer to feel confident, beautiful, and in tune with the vibrant energy of summertime.
In summary, someone would need a sundress for its comfort, versatility, style, and simplicity. It provides a practical solution for staying cool in warm weather while offering a range of options for various occasions. A sundress embodies the spirit of summer, bringing together comfort, style, and a sense of effortless femininity to create the perfect ensemble for enjoying the sunny days.
Sundress Styling Tips 
Layer with Denim or Lightweight Jackets
Add an extra layer of style and versatility to your sundresses by layering them with denim jackets or lightweight cardigans. This combination works well for slightly cooler days or when you want to add a touch of casual coolness to your look. Pair a patterned sundress with a denim jacket and sneakers for a trendy and effortless ensemble.
Belt it Up
Cinching a sundress at the waist with a belt can instantly elevate the overall silhouette and add definition to your figure. Opt for a slim or wide belt, depending on the dress and your personal style. This styling technique works particularly well with flowy or maxi sundresses, as it creates a flattering hourglass shape and adds a touch of sophistication.
Embrace Layered Necklaces and Statement Jewelry
Sundresses provide a perfect canvas to showcase your favorite accessories. Experiment with layered necklaces, statement earrings, or stackable bracelets to add a personalized touch to your look. Pair a solid-colored sundress with a long pendant necklace and hoop earrings for an effortlessly chic and bohemian-inspired outfit.
Play with Footwear
The choice of footwear can transform the overall vibe of your sundress ensemble. For a casual and laid-back look, opt for flat sandals or espadrilles. For a dressier occasion, dress up your sundress with wedges or block heels. Don't be afraid to mix and match different shoe styles to create various looks, from casual to more polished and sophisticated.
Add a Hat and Sunglasses
Accessories such as hats and sunglasses not only provide sun protection but also add a touch of style to your sundress outfit. Pair a wide-brimmed straw hat with a flowy maxi sundress for a beachy and bohemian look. Complete the ensemble with oversized sunglasses for a glamorous and chic touch.
If you're looking to add an ethical touch to your sundress outfit, consider opting for one of our hats. Cleobella's collection of hats includes beautifully crafted wide-brimmed straw hats, perfect for pairing with a flowy maxi sundress. By choosing Cleobella hats, you not only elevate your style but also support a brand that values ethical production and sustainable fashion. Enjoy the sun in style while making a conscious choice with our variety of ethically handmade hats. Shop hats now.
Accessorize
 with a Bag
Embrace the summery vibe by accessorizing your sundress with a straw or woven bag. These natural and textured bags add a touch of beachy charm and complete your warm-weather look. Opt for a tote, crossbody, or basket bag depending on the occasion and the size you need for your essentials.
Remember, the key to styling sundresses is to experiment, have fun, and express your personal style. Don't be afraid to mix and match different elements to create unique and individualized outfits that make you feel confident and stylish all summer long. Shop Cleobella bags now.
Summer is a season of self-expression and embracing the beauty of the world around us. With Cleobella's collection of sundresses, you can effortlessly embody the spirit of summer and radiate confidence and style. From the captivating Lorenza Ankle Dress to the playful Hazel Mini Dress, each Cleobella creation invites you to embark on a journey of self-discovery and embrace the joys of the season. So, unleash your summer style with these five Cleobella sundresses and let your inner sun queen shine.