Time Well Spent In Valle de Guadalupe, Mexico
Time Well Spent In Valle de Guadalupe, Mexico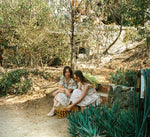 Our dear friends @michellewilliams.e and @kenziesface spent time in Valle de Guadalupe, Mexicao. Read all about their travels and recommendations!
All photos taken by Michelle Williams.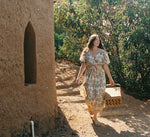 Where to stay?
There are so many beautiful boutique hotels in the area. We stayed at my friend's home about an hour north of the Valle, in San Antonio Del Mar also known as Baja Malibu. But I would love to stay at the Encuentro, it has the cutest lofts that overlook the valley with a beautiful vineyard as well as a dreamy pool to cool off from the hot day.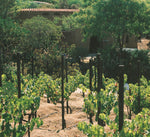 Where to stay?
I also would love to stay at Villa De Valle, as it looks like a piece of Tuscany with Cypress trees and bougainvillea everywhere. There's also Adobe Guadalupe, where you can roam the vineyards and take guided horse tours with them.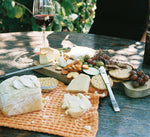 Where to eat and drink?
There are so many restaurants hidden throughout the valle. For our visit we went to Sol y Barro. We brought our own cheese and bread to make charcuterie as Sol y Barro has wine tasting but no restaurant. Sol y Barro has the cutest Adobe house and is located comfortably under the shade of the terrace.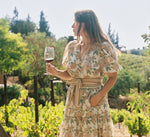 Where to eat and drink?
There's also Casa Magoni, it has really good wine and creates mouth watering charcuterie boards to munch on. You sit at picnic benches under the shade of the trees, and after you can roam the property with rows of olive trees, orange trees, and grape vines. Afterwards, we went wine tasting at Decantos, it has a more industrial contemporary feel to the property and has a very large view of the whole valle. We sat outside and enjoyed the view as we sipped our wine.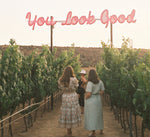 Where to eat and drink?
For dinner, we visited La Justina and drank fun cocktails and ate pizza while we overlooked their beautiful vineyard and watched the sun set behind the nearby mountains. La Justina also has a fun neon sign in the middle of the vineyard that says "You Look Good." There's also so many other restaurants and vineyards that we didn't have a chance to visit but we will definitely be going back as it's only about a 2.5 hr drive from the San Diego border!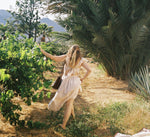 Helpful Tips for the Valle
When visiting the valle, it is very helpful to have a plan ahead of time for which vineyards and restaurants you would like to visit. A lot of the vineyards and restaurants have varying hours and everything is pretty spread out from each other. In the summer months, the Valle is hot hot! I would definitely recommend wearing loose comfy dresses.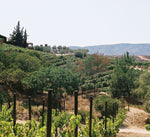 Helpful Tips for the Valle
Also many of the streets where the vineyards are on are dirt roads so I would recommend some cute close toed shoes, but we wore sandals and it wasn't too bad. The Valle is a close drive from Ensenada, Mexico if you would prefer to stay in an airbnb and also Ensenada has amazing seafood if you want to fit in both Ensenada and the Valle is one day!