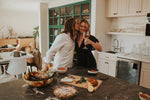 The Art of Staying In
The Art of Staying In
Lets face it, fancy Valentine's Day reservations are over-rated so this year Cleobella's founders are keeping it casual with a romantic date night in. Check out Ange & Jim's easy go-to recipes to cook and enjoy...don't forget the vino!
They started the night off with an easy and healthy kale salad! Ingredients include:
1. Green or purple kale
2. Sprinkle nutritional yeast
3. Squeeze fresh lemons and combine with olive oil and Himalayan salt
4. Serrano chiles sliced small and pistachios
5. Lastly, add fresh avocados
Next a tasteful tomato soup! To re-create follow these steps;
1. Put organic tomatoes, onions and garlic in the olive oil, salt and pepper roasted in the oven 350 degrees
2. Canned roasted organic tomatoes and tomato paste
3. Carefully puree in small batches and add back into pot
4. Add in vegetable stock and heavy cream (or use macadamia nut or coconut cream as a vegan option) and simmer until proper consistency
5. Check seasoning and add salt and pepper as needed
6. Put into bowls and garnish with home made croutons fresh pesto and basil
And for the best part, dessert! A yummy rose tart cake. 
Ingredients Include:
1 1/3 cups gluten free flour
1/4 cups chopped pistachios
1 1/3 cups sugar
1/2 teaspoon salt
1 1/2 Tablespoon rose water
2 eggs
1 1/2 sticks melted butter
Handful of chopped pistachios and dried rose petals
Method:
Combine first 4 ingredients (flour, pistachios, sugar, salt) in a bowl and stir until evenly distributed. Make a well in the center and add the last 3 ingredients (rose water, eggs, melted butter), mix until combined. Then put into a prepared 9 in. round pan. Scatter chopped pistachios and bake in a preheated 350 degree oven for 35-45 minutes until the center is semi-firm and the edges are golden. Take out of oven and then scatter with dried rose petals.
There you have it! A beautifully crafted Valentine's Day Dinner, so avoid the cliche dining out this year and instead opt for a night in!
Photography by // @marissavickers_