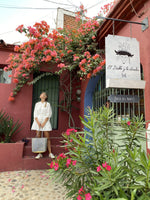 Oaxaca Travel Guide
Oaxaca Travel Guide
We recently were able to travel to Oaxaca City via an Art Retreat with the amazing @cosa.buena. To say this was a city of our dreams and a week we will never forget and will always look back on fondly would be a vast understatement - it was pure perfection. The sights, sounds, & smells of the city were stunning. The people were magic themselves. The food, the best I've had. & the love, intoxicating. 
While we had the pleasure of experiencing the city through a local's eyes (the lovely @vera.claire), we put together a small guide below to help you plan your own trip there. We promise you can't go wrong here, but these were some of our favorites…
Xo Hannah
Where to Stay: 
El Diablo y la Sandia: Boca del Monte -  A charming little Bed & Breakfast that is owned by a local family. We stayed at the Boca del Monte location which could not have been a better location but they have another location as well which is just as lovely. The breakfasts were delicious with homemade jam and a different egg dish daily as well as an "Honor Bar" so you can grab a drink anytime.
There are so many places to stay in Oaxaca I could not even begin to list them. Design forward hotels are their speciality! Just try to stay in an area that is walkable to the shops, restaurants, and museums you plan to visit!
Where to Eat:
The food in Oaxaca is spectacular. I think I had the healthiest week of eating in my life since most restaurants are actually quite vegetarian/vegan menu-heavy. A list below of a few we tried, but I think it would be tough to go wrong here! 
- @levaduradeolla - @zandungasabor- @lajicaraoaxaca (vegan/vegetarian restaurant combined with a local bookstore and cultural center)- @la_popular_oaxaca- @sur_a_norte- @casaoaxacaelrestaurante- @boulencpan
Where to Shop:
- Colectivo 1050- La Casa de las Artesanías - Mujeres Artesanas de las Regiones de Oaxaca- Huizache- From the Local Artisans themselves!! 
What to Do: 
Visit local artisans! We visited @biidauu (weaving & textiles) @casavivianaoaxaca (candles) @taller_ruizlopez (pottery). Each visit was a beautiful experience and by far our favorite part of Oaxaca. The artisans are as kind and welcoming as they are talented and knowledgeable.
- Museo MUFI- Museo Textil de Oaxaca- Museo de las Culturas de Oaxaca- Mezcal Distilleries & Tastings
What to Pack: 
Logan Short Honey & Lila Top Honey
Visit Cosa Buena: