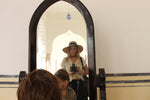 LOVE LETTER TO INDIA
LOVE LETTER TO INDIA
There are times in life that force you to stop and question everything.
That's where I found myself.  A piece of my life, someone I looked up to as a hero, a comforter, a supporter, a home, was revealed to be something else entirely.
My family, as I knew it my whole life, was broken. Was it ever even real?  The cornerstone of my foundation had been cracked, had it ever even been there?
How could I stand for the rest of my family, for my husband, for my children, with that faulty piece of my base?
 We were no strangers to unexpected sadness and tragedy, but this felt so different. The person responsible for this pain was still on earth.
It felt like an unexpected death; deeply painful, and irreversible. But it came with a deeper sadness, because the pain inflicted was by choice. A choice made every day.
In Hinduism, Kali is the archenemy of the final incarnation of Vishnu. He is the source of all evil, whose aim is to hurt, confuse, startle, and cause suffering to those around him. It is said that he lost his kingdom in a game of dice. I knew how that felt. Thrown casually and without thought. Everything risked for a game.
After about a year of mourning and feeling every wave of darkness, we were ready for the light. 
 So here we found ourselves in India ready to close the door on this chapter and open a new door, a door full of light to pour into every crevice of our being, to finally heal. We were ready to build our own new, indestructible foundation with a trip to a place that has always brought me home.
Since I can remember I've always had a deep spiritual pull toward India, as if my heart's compass has always pointed toward it.   And it was my dream to share this experience with my Mom, Cleobelle.  I knew that after the loss our family had experienced, we needed India to heal.  Jim stayed home with Indigo and we decided that we would take Keenan, my oldest, along for the journey as part of an educational experience that my spiritual teacher promised would leave a profound impact on his life.  We knew it would speak to Keenan's heart and be a powerful memory he could carry with him. 
  There is so much beauty in India, it overwhelms, immerses, and sinks right into you.  The wild colors, sounds, smells, spices, music, tiny roads, all come together to ignite your soul.   
Our journey started in Delhi and took us through the Golden triangle.  We ended the adventure in Rishikesh where Spiritual seekers from all over the world travel to the Ganges to heal, learn, and nourish the soul. There are dozens of stories of the origins and myths of the river. It is knows as a liberator of souls and as a gift to calm and soothe the Gods. 
I was certain that this would heal our broken spirits.  My mom and I prepared for the Ganges by gathering our old memories that no longer served us.  A healer guided our travels down the winding India roads, while music chanted in the distance, and the sounds of the river grew closer. We created an offering on the river and lit a match to our old memories and gave it up the mother Ganges. Keenan embraced the river with such a lighthearted spirit, his natural joy made the ceremony feel like a door opening instead of one closing.  We instantly felt lighter, brighter, and grateful for every moment of our journey.
What I have learned from my journey is that the dark and painful moments make all the beautiful ones that much brighter, it is in moments like these that this truth is clearer than ever.
With all my Love,
Ange