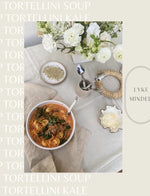 Kale Tortellini Soup with @lyke_minded
Kale Tortellini Soup with @lyke_minded
Our favorite lady made the yummiest dish that we just can't get enough of! Read along for the recipe of the Kale Tortellini Soup by Ali Primrose (@lyke_minded).
Looking for a warm dish perfect for upcoming cold weather? This soup is warm, delicious and perfect comfort food. Takes a total of 35-45 minutes and serves up to 4 people!
Don't forget to serve with parmesan cheese and red pepper flakes! Tell us if you made this dish and how you liked it at @cleobella!
Ali is wearing the Turner Midi Dress — a perfect kitchen staple because even if you happen to spill on it, the black fabric covers anything!