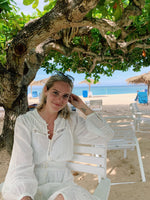 Jamaica Getaway
Jamaica Getaway
Take a look into our week spent in Jamaica. Follow along for what we did, where we stayed and of course, what we were wearing!
Stay
Jamaica Inn - A family-owned inn in Ocho Rios, about an hour and a half drive from the airport (but don't worry the Inn will arrange a driver and send them with a cooler full of Red Stripes to kick your trip off). Arriving at the hotel is like entering into another world - everything is crisp, breezy, and lush. The inn itself is painted in the most perfect shade of blue and pretty much everything else is designed in a clean, airy white. Your room is more outdoors than in, which is perfect because you won't want to miss a moment outside - most rooms open up to the beach and ocean. We woke up every morning to walk out on our porch to a waiting breakfast of fresh fruit, coffee, omelettes, and homemade pastries. The schedule at the inn? Rum punch delivered daily at 11:00, swim, read, lunch, nap, croquet & rose at 3:00, lounge, play cards, cocktail hour, dinner & music, after-dinner drinks to the sound of the ocean. For a completely relaxed vacation where you won't have to worry or plan a single thing, stay here. 
Rockhouse Hotel - This is an incredibly cool hotel to stay at, especially for a girl's trip or a more lively trip with your significant other. Located on the cliffs of Negril, this award-winning boutique hotel is perched above the crystal clear water with jumping platforms thoughtfully placed throughout the property. We stayed in one of the ocean-front huts with a private patio that dropped down into the sea and full windows looking out on the water. Waking up to the sound of the waves crashing against the cliffs every morning was one of our favorite parts. 
Rockhouse has two restaurants that make use of locally sourced, organic ingredients - The Rockhouse Restaurant & Pushcart Restaurant & Rum Bar (the second has nightly DJ's too). Make sure you order the Old Time Synting for dinner, we loved it so much we had it every night we were there. 
Eat
Since we were traveling to Jamaica during the pandemic, we ate mostly at our hotels. The menu at Jamaica Inn changed nightly so it wasn't a bother in the slightest. 
Do
Go snorkeling! The water is the perfect temperature for swimming here plus its crystal clear so you can see lots.
Take a local boat out. We went out with a local on his boat one morning (either hotel will schedule this for you). He took us around the coast to see the dreamy villas built into the cliffs and took us to new snorkeling spots. Such a fun way to spend a morning!
Go on a hike. Especially near Jamaica Inn there is a famous waterfall hike. We didn't go...it was too hard to leave the beautiful property and we didn't want to miss a single second there.
What to Wear
It's warm here from the moment you wake up to the moment you go to sleep. Which is absolutely perfect and just what you hope for in a tropical getaway. No need to pack sweaters or jackets for the evening - it cools down once the sun goes down, but never too much. 
For breakfast before hitting the beach: A bathing suit under your Magdalena Mini Dress in our new Cherry Blossom Print. Wear with one our LOC hats + your favorite sandals. Pack your beach bag - we love the Lorenzo Tote or Regina Bag.
For lunch or afternoon tea: Wear the Amita Blouse in white paired with your favorite pair of jean shorts. Throw on the same hat + sandals + The Paradise Bag for the essentials.
For Rose & Croquet: The Kamela Midi Dress in white is perfect for an afternoon of competitive croquet. Add one of our scarves for a colorful pop!
For dinner: Depending on preference for long or short, wear the Kamela Midi or Berit Mini Dress in black. Pair with the Alia Tote. 
Hannah is wearing our Magdalena Mini Dress Cherry Blossom, Paradise Bag, Kamela Midi Dress White, Berit Mini Dress Black, Alia Tote Black, India Midi Dress Lotus, and Rainbow Weekender.