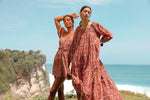 Hawaii Slow Travel Guide
Hawaii Slow Travel Guide
Our Tips for Slow Travel on the Hawaiian Island of Oahu 
In collaboration with Callan Jensen 
Slow travel is a divine voyage of the heart and soul, a wondrous expedition through the tapestry of our world. It is a state of mind that beckons us to immerse ourselves in the essence of a destination, to savor each moment, and to forge a deeper connection with the local culture. And where better to embrace the art of slow travel than on the stunning Hawaiian island of Oahu? Join us as we embark on a journey of discovery, uncovering hidden treasures, indulging in delectable cuisine, and engaging in soul-stirring experiences that will forever leave a mark on our hearts.
Stay: Turtle Bay Resort
Nestled on the captivating North Shore of Oahu, Turtle Bay Resort is a haven of tranquility that perfectly embodies the spirit of slow travel. Surrounded by lush tropical landscapes and overlooking pristine beaches, this exquisite resort offers a sanctuary for relaxation and rejuvenation. Unwind in luxurious accommodations, bask in breathtaking ocean views, and let the gentle sound of waves lull you into a state of bliss. Turtle Bay Resort provides an idyllic home base for your slow travel escapades on the island.
Eat: Banzai Sushi, Maya's Tapas, and Roy's
Indulging in the local cuisine is a fundamental aspect of slow travel, and Oahu offers a plethora of tantalizing dining options that will delight your taste buds. Begin your culinary exploration at Banzai Sushi, a hidden gem that serves up mouthwatering sushi rolls bursting with fresh flavors and artistic presentation. For a fusion of delectable tastes, make your way to Maya's Tapas, where Spanish and Latin American influences meld together in a symphony of culinary delight. And don't miss the chance to experience Roy's, an iconic Oahu establishment known for its Pacific Rim cuisine that showcases the island's finest ingredients in innovative and unforgettable dishes.
Do: Riding Horses on the Beach, Surfing, and Sunbathing
Immersing yourself in nature and engaging in leisurely activities is at the heart of slow travel on Oahu. Picture yourself horseback riding on the white sandy beaches, the warm sun caressing your skin as you traverse the coastline with a sense of freedom and connection to the island's natural beauty. And when it comes to embracing the waves, Oahu's legendary surf spots beckon both beginners and seasoned surfers alike. Grab a board, paddle out, and ride the waves as the ocean becomes your playground. Of course, no slow travel experience in Hawaii is complete without simply basking in the sun's gentle embrace on the island's picturesque shores, allowing the rhythm of the waves to lull you into a state of blissful tranquility.
What to Wear
As you embark on your slow travel journey through Oahu, dressing the part is an art in itself. Embrace the island's laid-back vibes and tropical flair with a collection of breezy, bohemian-inspired pieces that perfectly capture the essence of slow travel.
Slip into the Cherith Midi Dress, a flowing garment that moves gracefully with each step. 
The Cherith Midi Dress is the perfect sustainable dress for your wardrobe. Effortlessly feminine and beautiful with elastic bubble sleeves and ruffle detailed skirt, this dress is the staple you need this season. Its lightweight and breathable fabric makes this the perfect dress for a day spent in the sun. 
Shop the Cherith Midi Dres Now
Alternatively, opt for the Rosalie Midi Dress, adorned with vibrant patterns that mirror the island's rich culture.
The Rosalie Midi Dress is the perfect sustainable dress for your wardrobe. Fun and flirty with a ruffled tiered skirt and versatile smocking, this dress is the showstopper you need this season.
Show the Rosalie Midi Dress Now
For a more playful and youthful look, the Lauren Mini Dress offers a flirty and carefree style. 
The Rina Mini Dress, made of 100% GOTS certified organic cotton poplin, is a fun and fresh addition to your sustainable wardrobe. The patterned fabric and ruffle details make it the perfect dress for dressing up or down.
The Kamala Kaftan provides an elegant and comfortable option for relaxed evenings by the beach.
With a stunning hand woodblock printed design and a comfortable, versatile silhouette, the Kamala Kaftan Dress is perfect for any occasion. Featuring a flowing silhouette and a bold hand woodblock print, this kaftan dress offers both comfort and style.
Choose your attire wisely and let it reflect the spirit of slow travel as you explore the wonders of Oahu.
Oahu is a haven for slow travelers seeking to forge a deeper connection with their destination. Embrace the art of savoring each moment, exploring hidden gems, and immersing yourself in the local culture. Let the island's natural beauty and vibrant spirit guide your journey as you embark on a transformative and unforgettable experience. Aloha and mahalo for joining us on this remarkable adventure through the heart of Oahu's slow travel secrets.