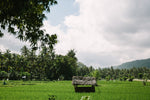 Gifts That Give Back
Gifts That Give Back
Sustainable Gifting and Upcycling Tips for the Holidays
The holidays bring people together and help to celebrate life and everything we are grateful for. This season human connection is what everyone is craving. Although we may not all be together, a gift is a perfect gesture to show the people you love you're still there and thinking of them. What better way to celebrate the people you love by getting them something that can bring joy to their life and as a bonus is good for Mother Earth. 
When you choose to shop at Cleobella you are helping to support our People, Planet, and Process. Each piece purchased brings sustainable incomes back to our makers. We believe gifts can give more than just a smile and can truly make a difference. We also donate a % from each purchase to support women and girls empowerment, planting trees, supporting artisans around the world, and youth education. With each purchase we can accomplish goals we've set as a brand and continue to give back to the ones who need it most.
With this guide, we will run through some of our favorite sustainable gifting and wrapping tips. We will also be sharing some upcycling tips and tricks to help use up what you already have in your home for this season. As well as some options of sustainable gifts that give back. There are treasures all around us, we just have to put a little thought into it before we look them over.  
Sustainable Gifting Ideas: 
- Seeds / Plants for their garden or kitchen. Herbs like basil, sage, or oregano can be very easy to grow and make a lovely gift. Include some of your favorite recipes that use the herbs you give for an added thoughtful touch.- Only give something you know will be used. If you are unsure, ask them what they're hoping for or may need this season. - Clear out what you are not using in your home and donate your unwanted clothes, toys, blankets, and other essentials to local donation centers. This is the perfect time to give gifts to your local families in need. - If you do purchase your gifts, try to buy from brands that are doing their best to make a difference and supporting vulnerable communities around the world and/or the environment.
Cleobella
gives 1% back from every purchase to organizations supporting global artisans, providing underprivileged children with education, planting trees, and uplifting women & girls around the world. Our products are ethically handmade by our global artisan partners. Share these details with the people you give to, you may inspire the person who receives it to give a sustainable or ethically made gift for next year. - Reminder: Baked goods are always an easy go-to that everyone will love. Especially if you can get the whole family in on it, it can make for an extra sweet holiday season passing them out to the people you all love! 
 Sustainable Wrapping Tips: 
- Try twine instead of plastic ribbon, when thrown away and returned to nature it will be easier to break down. - Use Recycled or compostable wrapping paper, newspaper, or even a scarf! - *PRO TIP: use the wrapping paper or a bag you saved from last year - Instead of other plastic based decor you can use leaves, flowers, or other plants to elevate your wrapping. - Use as little tape as possible! Tape is typically made with plastic, and it's better to use as little plastic as possible because of how long it takes to break down and how unlikely it is to get recycled. - Instead of using plastic tags to write your name, use recycled paper ones or even use scrap paper lying around your house. - Recently purchased something from Cleobella? Reuse your dust bag as wrapping for your gifts or add a strap for a daily tote.
Holiday Upcycling Ideas:
- Mason jar with cookie mix or other baking mix. This is so special for someone who loves to bake & loves to reuse their jars to give them a longer and more meaningful life: Use a family recipe, layer the ingredients, and attach the directions. Step 1-  HOW TO MAKE THE COOKIE MIX: Combine flour, baking soda and salt in a small bowl. Place flour mixture in a 1-quart jar. Layer morsels, brown sugar and granulated sugar in order listed above, pressing firmly after each layer. Seal with lid and decorate with fabric and Twine. Step 2- RECIPE TO ATTACH: Preheat the oven to 375° F. Beat 3/4 cup (1 1/2 sticks) softened butter or oil, 1 large egg (applesauce for vegan substitute) and 3/4 teaspoon vanilla extract in a large mixer bowl until blended. Add cookie mix and 1/2 cup chopped nuts (optional); mix well, breaking up any clumps. Drop by rounded tablespoon onto ungreased baking sheets. Bake for 9 to 11 minutes or until golden brown. Cool on baking sheets for 2 minutes; remove to wire racks to cool completely. Makes about 2 dozen cookies.- DIY crafts like wall decor using sticks, yarn, shells, and other things you can collect from nature. This can be especially fun to do with your littles!- Have extra fabric or clothes lying around? Make reusable napkins from your extra fabric by cutting, folding edges over, and sewing the edges clean. - Handmade ornaments are also a creative gifting idea and usually adored for years and years after it was given. - Macrame plant hangers can be incredibly easy to make and are also a great gift to give along with a hanging plant like pathos. - Homemade candles can also be a beautiful gift. You can pour the wax into items that are not being used like wood bowls, shells, maybe an old pot or jar! This can be a low waste and easy way to upcycle something that is already in your home. 
There is beauty all around us. Sometimes we even overlook the treasures within our own home and the possibilities that surround us beyond them. The last holidays may look different from this year, and we hope you can find joy this season. Whether that be through the gifts you give, or just the time spent, we hope you find peace and gratitude ending this year. Share with us your sustainable gifting tips & tricks. We would also love to see what you are upcycling for your gifts this year. Tag us on Instagram or email us at Brittd@cleobella.com to share what you are intentionally putting together this Fall for your sustainable gifts for those who matter to you most.