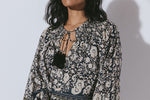 Fall Fibers
A closer look at our fabrics and prints of this season.
We are smitten over this Autumn season and wanted to give you an inside look at what fibers we selected for you this Fall. Cleobella only uses organic and earth conscious fibers while creating staple wardrobe pieces that are handmade to last and be passed down. With the climate changing day by day we have prepared you for both the warm and cold Fall days. This collection is filled with styles that are interchangeable and perfect for transitioning from day to night. We are so excited to share with you the fibers we've selected for the season and the hand made process we undergo to create our beautiful woodblock printed fabrics.  Cleobella solely uses organic and natural fibers for the safety of our customers, artisan partners, and our planet. The fibers we intentionally chose for this Fall have your best interest and the climate in mind.
Organic cotton 
GOTS certified organic cotton is a cleobella favorite and we love incorporating it into each curation. We strongly believe in the importance of organic cotton and know the importance of growing fibers with integrity. GOTS organic cotton is harvested using 90% less water compared to conventional cotton. It is also grown with no genetically modified seeds, harmful pesticides, or synthetic fertilizers. Cleobella proudly includes this organic fiber into each season because GOTS certified organic cotton is a fiber we can rely on.  
LENZING™ ECOVERO™
Ecovero Viscose  is a more sustainably made viscose comparable to manufactured natural fibers like rayon and bamboo. Ecovero is derived from certified wood sources using responsible production processes that meet high environmental standards, lower emissions, and their processes contribute to a cleaner planet. Our certified LENZING™ ECOVERO™ fibers generate up to 50% lower emissions and water compared to generic viscose. We use this fiber for it's beautiful qualities and its positive contributions to the environment.  
Organic Cotton Eyelet
Organic cotton eyelet is made with 100% organic cotton, our eyelet fabric is beautifully elegant and more durable than alternative laces. Its classic history and intricate designs are what gives this fabric a unique and timeless feel. This ageless fabric is made with longevity and resilience at its core.  
Organic cotton French Terry 
Organic French Terry Cotton is made from the looping and knitting of yarns to give the fabric more stretch and versatility. Lusciously soft, this fabric is perfect for being lived in and loved. Our organic French terry cotton is wrinkle resistant and made to maintain breathability. This fabric is perfect for keeping you cool and warming you up if you need it.  
Also featured in our Fall collection is our specialized hand woodblock prints. Cleobella's hand woodblock printed designs embody the slowest and most traditional form of textile design in fashion. Our designs are first drawn in California and then undergo a collaborative process with our artists in India to finalize the print design. Our generational master woodblock makers then hand carve the print onto the teak woodblocks. The woodblocks are dipped into natural, non-toxic, water based, vegetable dyes like indigo or turmeric when possible, and transferred onto the fabric one-by-one. The woodblocks are pressed onto the fabric with extreme precision leaving a beautiful impression of the pattern. Our signature prints are truly wearable art and occasional variations in design are due to the handmade process, making each piece as unique as you.  
Providing our customers pieces that are handmade with integrity and mother Earth in mind is how we do business.  We hope you stay conscious, colorful, and cozy this Autumn season.