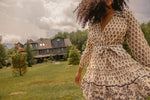 Elevating Your Autumn Wardrobe
Cleobella's Must-Have Pieces
Elevating Your Autumn Wardrobe: Cleobella's Must-Have Pieces
As the sun-kissed days of summer slowly give way to the crisp embrace of autumn, the fashion landscape undergoes a remarkable transformation. Just as nature sheds its vibrant hues in favor of rich earthy tones, our wardrobes to demand a shift. It's a seasonal metamorphosis that extends beyond the tangible; it's about embracing change, celebrating the artistry of clothing, and connecting with the world around us. Elevating your fall wardrobe isn't merely about updating your closet—it's an opportunity to step into a new chapter of self-expression and empowerment.
Cleobella's Fall Collection
Transition into Fall with Cleobella's Artistic Autumn 2023 Collection. This captivating line pays homage to the renaissance woman—a true aficionado of the arts, music, culture, and those transformative moments that intricately weave life's journey into our personal narrative.
Embark on a journey through Chapter 1 of Cleobella's Collection, which unveils four new prints inspired by the artistic brilliance of French painters Matisse and Monet. These legendary artists, celebrated for their distinct use of color during the impressionist era, serve as a wellspring of inspiration for this collection's vibrant palette and visual depth.
Mirroring the strokes of a painter's brush, Cleobella's artisans infuse their hearts into every facet of these designs, finding beauty within the tiniest intricacies. Each style is thoughtfully crafted with distinctive details, intended to be cherished across generations. From refined and tailored silhouettes to billowing, flowing forms, this collection is an exploration tailor-made for the season ahead.
Intriguingly unique, the fall collection reflects Cleobella's dedication to providing not just clothing, but an embodiment of the free spirit, confidence, and authenticity that define their brand. Whether it's a sweeping maxi dress that catches the autumn breeze or a tailored jacket that effortlessly fuses sophistication with comfort, Cleobella's fall collection beckons you to embrace the season's charm and create your own captivating stories.
This fall, Cleobella once again reminds us that fashion is not just about what we wear, but an artistic expression of who we are and the narratives we weave into our lives.
Best Colors and Fabrics for Autumn 
When venturing into a new season, colors and textures can help you embrace the spirit of change and transformation, allowing your style to evolve along with the shifting landscapes and the stories they hold.
Colors play a pivotal role in creating a wardrobe that transitions from summer and effortlessly captures the spirit of fall. Imagine the rich, warm hues that mirror the changing leaves—a palette of deep burgundies, burnt oranges, and muted earth tones. These colors evoke a sense of connection to nature's transformation, grounding your wardrobe in the beauty of the season. Pair these autumnal shades with versatile neutrals such as timeless grays, classic creams, and understated blacks. This balance allows for endless mixing and matching, creating an array of outfits that speak to both summer's vibrancy and fall's cozy charm.
Meet the Prints
Our Monet print encapsulates the essence of a timeless autumnal landscape, drawing inspiration from the masterful strokes of impressionist artists. Infused with warm and inviting hues reminiscent of the fall season, this print features a harmonious blend of yellows, oranges, and muted greens and blues. Each brushstroke of color pays homage to the way impressionist painters captured the interplay of light and nature, translating their artistic brilliance into a wearable masterpiece. As you don our Monet-inspired pieces, you'll find yourself immersed in a canvas of nature's changing beauty, embracing the very essence of fall's transformative charm. 
The Rhode Paisley print is a sophisticated homage to the timeless allure of paisley patterns, with a modern twist. Muted shades of pink and rich burgundy intertwine in a dance of elegance, creating a print that exudes both grace and depth. This print is a journey through refined aesthetics, evoking a sense of nostalgia while remaining firmly grounded in the present. The Rhode Paisley print lends an air of subtle opulence to any ensemble, making it an embodiment of understated glamour and the perfect complement to the autumn palette.
Shop the Rhode Paisley print now.
The Delilah print epitomizes the beauty of the autumn season with its soft and natural tones that seamlessly blend into the fall palette. The gentle and soothing hues found in the Delilah print evoke the feeling of crisp leaves underfoot and the warm embrace of cozy sweaters. As nature begins its transition, this print captures the essence of the changing landscape, infusing your wardrobe with the serene elegance of fall. The Delilah print in its timeless beige hue is a celebration of autumn's understated magnificence, creating an ensemble that resonates with the gentle rhythms of the season.
Our Deco print is a captivating symphony of autumn's finest elements, artfully translated into a mesmerizing geometric pattern. The muted orange, rich burgundy, and calming sea green hues come together in perfect harmony, channeling the essence of fall's changing landscape. Inspired by the spirit of the season, this print captures the nostalgic charm of vintage aesthetics while infusing a contemporary twist. Whether gracing a statement piece or accentuating an accessory, the Deco print's intricate geometry and warm, autumnal shades create a visual melody that resonates with the soulful rhythm of autumn, making it an exquisite addition to your fall ensemble.
Meet the Materials
Organic Cotton Mulmul 
Our commitment to sustainability and comfort shines through in our fall collection, where we embrace the luxurious touch of organic cotton mulmul in our dresses. This remarkable fabric, renowned for its airy texture and gentle drape, enhances the essence of the season's coziness. The dresses crafted from organic cotton mulmul offer a tactile experience that's as soft as a whisper of autumn breeze. As you slip into these dresses, you'll not only envelop yourself in the warmth of fall but also in the knowledge that you're wearing a fabric that's kind to both you and the environment. The use of organic cotton mulmul is a testament to our dedication to creating pieces that capture the spirit of the season while remaining true to our values of sustainability and mindful craftsmanship.
Organic Cotton Poplin
Elevate your fall wardrobe with our exquisite dresses, thoughtfully crafted from organic cotton poplin. This fabric embodies the essence of the season, offering a delightful combination of structure and comfort. The dresses created from organic cotton poplin carry a unique charm, blending sophistication with a touch of everyday elegance. The crisp texture and breathable nature of this fabric make it a perfect companion for the changing temperatures of fall. As you step into these dresses, you'll feel the undeniable quality of organic cotton against your skin, a reminder of the careful consideration that goes into every thread. With our commitment to sustainable practices, these dresses not only enhance your fall style but also contribute to a more conscious and stylish world.
Organic Cotton Voile
The pieces adorned with organic cotton voile encapsulate the essence of the season, offering a sense of lightness and movement that's both graceful and comforting. The subtle transparency of the fabric lends a touch of ethereal charm, allowing you to move with ease and elegance. Each dress, crafted with care and thoughtfulness, becomes a canvas for showcasing the beauty of organic cotton and its seamless integration into a fall wardrobe. With our dedication to sustainability and style, these dresses invite you to celebrate fall in its purest form, wrapped in the embrace of organic cotton voile.
8 Must-Have Pieces for the Season
Embrace the changing season with our curated selection of 8 must-haves, each thoughtfully designed to infuse your fall wardrobe with a perfect blend of style, comfort, and sustainability:
Crafted from 100% GOTS certified organic cotton voile, the Lotte Mini Dress is a masterpiece of elegance and ethical craftsmanship. Ethically handmade in India, it boasts a lightweight fabric, a relaxed fit with a removable sash tie, and a V-neckline. Its ruffle at the yoke and elasticated sleeves with double smocking and ruffle details at the opening add touches of exquisite detail.
Shop the Lotte Mini Dress now.
The Caprice Ankle Dress in Monet print is a tribute to organic cotton poplin's charm. Ethically handmade in India and featuring a V-neckline, elasticated sleeves with double smocking, and a ruffle detail at the opening, this dress is not only bra-friendly but also designed with pockets and double elastic hidden at the waistband.
Shop the Caprice Ankle Dress now.

Radiate elegance in the Brielle Midi Dress, made of 100% GOTS certified organic cotton mulmul. Handmade with care in India, its lightweight fabric, smock-backed fitted bodice, and square neck create a captivating silhouette. Puffed sleeves and pockets enhance both aesthetics and functionality.
Shop the Brielle Midi Dress now.  

The Indira Ankle Dress in Delilah print is a celebration of 100% GOTS certified organic cotton mulmul. Ethically handmade in India, it combines a lightweight fabric with a highneck, ruffle skirt detail, smocked detail at the neck, and button opening with rouleau ties adorned with tassels. Pockets add convenience.
Shop the Indira Ankle Dress now.

The Maelle Cardigan envelops you in 100% organic cotton yarn, embodying both comfort and conscious craftsmanship. Ethically handmade in India, its relaxed fit, functional button-down front, novelty stitch, and ruffle at the sleeves create a versatile layering piece.

Crafted from a cotton-linen blend, the Zosia Blazer is a statement of sophistication and sustainability. Ethically handmade in India, its heavyweight fabric and oversized look exude confidence. Pockets and printed lining complete the ensemble.

The Harper Trouser, made from a cotton-linen blend, combines style with substance. Ethically handmade in India, its heavyweight fabric, relaxed fit, pockets, partial lining, functional ties, and elastic waistband ensure comfort and versatility.

The Vivienne Blouse, fashioned from 100% organic cotton poplin, is a blend of elegance and ethics. Ethically handmade in India, its mid-weight fabric, relaxed fit, highneck, button placket, and weave detail at the yoke with ruffles at the neck and border create a graceful look.
Each of these meticulously designed pieces reflects our commitment to sustainable fashion without compromising on style. Embrace the season with these versatile essentials that capture the spirit of autumn while honoring the principles of mindful and ethical craftsmanship.
Shop the Autumn 2023 Collection
In the symphony of seasonal change, Cleobella's Fall Collection emerges as a harmonious melody that encapsulates the spirit of transformation. As the sun-kissed days of summer gracefully surrender to the crisp embrace of autumn, our wardrobes resonate with the evolving landscape. Beyond mere clothing, fashion becomes a canvas for self-expression and empowerment, an artistry that mirrors the changing hues of nature.
The allure of Cleobella's Fall Collection lies in its homage to the renaissance woman—a true connoisseur of life's multifaceted wonders. Chapter 1 of this collection, inspired by the vibrant strokes of French painters Matisse and Monet, speaks to the heart of creativity and depth. The prints, meticulously designed with warm, autumnal hues, evoke the essence of nature's metamorphosis. Each piece, a testament to Cleobella's artisanal dedication, weaves together threads of artistry and culture, creating ensembles that transcend seasons and narratives.
The beauty of fall radiates not only through the prints but also the choice of materials. From the delicate touch of organic cotton mulmul to the structured elegance of organic cotton poplin and the ethereal embrace of organic cotton voile, Cleobella's commitment to sustainability and comfort shines brightly. These materials effortlessly envelop you in the essence of the season, ensuring that your style journey remains intertwined with the environment.
Our 8 must-have pieces embody the heart and soul of Cleobella's fall ethos. The Lotte Mini Dress's relaxed elegance, the Caprice Ankle Dress's Monet-inspired charm, the Brielle Midi Dress's refined allure, the Idira Ankle Dress's gentle sophistication, the Maelle Cardigan's versatile comfort, the Zosia Blazer's bold statement, the Harper Trouser's blend of style and substance, and the Vivienne Blouse's graceful aesthetic—all celebrate the richness of autumn while embracing ethical craftsmanship.
As you step into fall, let Cleobella's Fall Collection guide you in embracing change with open arms. Elevate your wardrobe, and in doing so, elevate yourself. Each piece is an embodiment of the stories you carry, the artistry you appreciate, and the authenticity you cherish. With Cleobella, fall becomes more than a season—it's a journey of style, substance, and self-discovery.