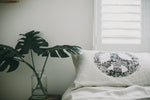 DAZED BUT AMAZED X CLEOBELLA
DAZED BUT AMAZED X CLEOBELLA
DAZED BUT AMAZED...
is exactly how it feels working and traveling through life with my best friend Jes O' Brien. Dazed by her adventurous spirit and amazed by the beauty she illuminates. This collaboration is a fusion of our love for our littles and our visions of peace.
As many of you know, Jes and I met in Australia years ago while our husbands were surfing. Our serendipitous meeting has led the way for years of shared creativity & passion. We have seen our families expand and the love in our life multiply. With this brand new collaboration of organic linens, we hope to bring a little more magic into your homes and keep the little and big loves of your life feeling special and warm.
Shop the collaboration
here.
xx
"Natural, custom woven, vintage washed, 100% pure line. Soft to the touch and hard wearing. There has been no compromise in quality. Why should there be on the fibers your most treasured people rest on and breathe in every single dream time? Created for you and the little and big loves in your life.
Ethically manufactured, hand screen printed and hand dyed here in our own local space. Each item is personally finished, unique and limited edition.
Linen gets better with wash and age, is hypoallergenic lasts decades longer than cotton bedding.
We hope you adore it and your love of linen is long like ours.
Thank you for joining us on this crazy adventure.
DAZED, AMAZED, CONFUSED & AMUSED"