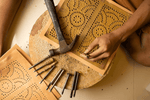 Cleobella's Slow Fashion Process
Cleobella's Slow Fashion Process
Cleobella's Slow Fashion Process
From Ideation to the Final Piece
Everything comes from something. Inspiration is all around us. We wanted to provide you with the magical description of our slow fashion process from ideation to the  final piece as well as our love for the traditional art practices of our artisans around the world that has driven Cleobella from the very beginning. Cleobella is a globally inspired brand that focuses on the prosperity of our artisans around the world. We are on a mission to slow down and bring integrity and  purpose back to the way things are made and prosperity to the people who make them. Our founders' travels inspired them to bring love back to the communities they adore and to return joy to the people they've connected to abroad. 
Cleobella is globally inspired and most of our collections and color pallets are influenced by places, nature, and cultures from around the world. Our founder, and creative director, Anglea O'Brien, works with her small but mighty design team to intricately lay out their visions for each season. Cleobella's design process starts here at our headquarters in Southern California. Though Angela's  inspirations are taken from different vibrations of colors and feelings of textures from her travels, she carefully selects different elements that align with the story she wants to tell. A story of art, culture, integrity, love, and support. Traveling has always been a part of life for our founders Angela and Jim O'Brien and it is on these trips where Ange gets inspired by the colors and experiences around her. For the last 14 years our founders have been in constant communication with our artisan partners learning and growing together. Our founders have created a life with their family that allows them to make yearly visits to our makers. Our artisans are Cleobella's family and without them we would not be the brand we are today.
At Cleobella, designing with intention is our purpose and we take our slow magical process very seriously. In addition to travel, we are inspired by vintage patterns, colors, and silhouettes to create classic timeless treasures that can be loved for countless years with their limitless charm. Our slow design process and indescribable support overseas, allows us to bring you styles that tell a story each time you wear them. Not only can you feel the integrity in each piece, you can see that each one tells their own tale and is truly unique. Fashion is an art form and our design process is our way of expression. Some of our all time favorite styles are timeless classics that we can pair with preloved vintage accessories to create the perfect look. Cleobella's designs are meant to be worn with love and lived in for lifetimes. We exclusively work with natural materials that are better for you and Mother Earth. We use natural fibers solely for the protection of our customers and their accountability. Natural fibers are durable and made to last. With organic cotton, hemp, and linen being our favorite fabrics, we are also continuing to try and find the best possible fiber options that contribute to slow fashion and responsible clothing that will truly last. 
Cleobella's hand woodblock printed designs embody the slowest and most traditional form of textile design in fashion. Our designs are first drawn in California and then undergo a collaborative process with our artists in India to finalize the print design. Our generational master woodblock makers then hand carve the print onto the teak woodblocks. The woodblocks are dipped into natural, non-toxic, water based, vegetable dyes like indigo or turmeric when possible, and transferred onto the fabric one-by-one. The woodblocks are pressed onto the fabric with extreme precision leaving a beautiful impression of the pattern. Our signature prints are truly wearable art and occasional variations in design are due to the handmade process, making each piece as unique as you. This process takes immense detail and is a traditional art form. Our Founder Angela fell in love with this magical mastery and witnessed first hand why they have been creating fabric this way for centuries. Paying attention to not over producing and constantly relying on their impeccable detail, our artisans create our fabric responsibly and with intention. The handmade process makes each piece unique and not one exactly the same. 
Our signature Bali bracelets are ethically sourced and hand crafted with recycled brass in Bali by our friend Arief, who we met over a decade ago. The brass is delicately molded through a heating and cooling process, and carved one-by-one in Arief's village by his small but talented team. They are truly a family business, as Arief's children are now old enough to help manage their family run production. Their method incorporates low waste of materials and artisanal expertise to create long lasting, high quality pieces. 
Our Mexicana wallet, a Cleobella classic and best-seller, is made with leather that is hand-tooled by our artisans in Bali. We have been working with the same family since 2006. Although we've had opportunities to source lower prices, we are committed to our partners as they are a family just like us and we have grown our business together. Each wallet is a unique work of art and created completely by hand. Our leather suppliers in Bali and India work directly with the meat industry, ensuring low waste and using all materials. Majority of the scraps of leather are saved and used for future projects. 
We know sustainability is an ongoing process and a never ending road. We are constantly looking for new ways to improve and know that sharing these experiences with you allows us to keep ourselves accountable. Some goals we are striving towards is expanding our curation to include vegan or plant based leathers, researching new and innovative regenerative practices as well as fabrics, and being accountable for all our scope 1, 2, & 3 emissions though carbon offsetting and other initiatives.
All Cleobella designs are handmade with integrity while preserving heritage artisan techniques. Our makers use their mastery to create items unlike anything else with intention and purpose. By using techniques like tooling, weaving, dyeing, and woodblock printing, we are able to create uniquely beautiful pieces that preserve the heritage art of the diverse cultures they represent. As well as making incredibly well crafted products that are made to last the test of time. It is because of these unparalleled heritage crafts Cleobella is able to thrive and continue this unmatchable, magical process of creating items that will be adored for many generations. This is why we design our products directly from our hearts, because things made with love and intention are meant to last.