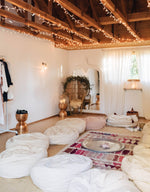 Cleobella's Cosmic Full Moon Ceremony
Cleobella's Cosmic Full Moon Ceremony
Jan 10, 2020
We enjoyed a cosmic night filled with astrological readings, CBD mocktails by Juna, styling by Cleobella, bath rituals by Muse Apothecary, food from ModelMeals and ended with the Full Moon ceremony hosted by Shannon Aganza at Four Moons Spa in Encinitas, CA. We had a few of our favorite friends join us as we released all negativity and started the new year off right by cleansing and moving forward with a clear mind and soul. 
Everyone was styled head to toe in Cleobella's newest collection that just launched! Haven't seen it yet? Check it out here.
The night continued as we made our own bath rituals from Muse Apothecary, including calming ingredients like lavender essential oils and organic dead sea salt to sooth our senses and our skin. Finished it off by sealing in the ritual with good intentions for the new year. 
We all gathered around as Shannon embarked on the Full Moon Ceremony, we laughed, we cleansed, we healed. Releasing all negative thoughts and energy by burning our words which allows for only positive light into our lives. We enjoyed each others company, shared stories and elevated one another to strive for a happy, healthy new year!
Host your own Full Moon Ceremony!
All you need are your friends, add some candle light or burn sage and secure a place where you and your guests can sit comfortably. 
In the center of your circle, set up a sacred space to display trinkets that inspire you, like crystals or flowers. Invite your friends to bring their own treasures as well and place them all at the center of your space. Be sure to provide pens and paper for your guests as well.
Before you begin the manifestation practice, take the time together to clear your head space and release any negative energy. Begin by closing your eyes and allowing for a few moments of collective silence. Encourage everyone to simply focus upon the breath and relax their mind and body. You can even use a Spotify meditation playlist to lead this. 
Next, write the things you desire and want to manifest into your life. Some examples may include: love, financial stability, a new job, more inspiration or healthy eating habits. Then also write down things you no longer want in your life. Some examples are: anger, jealousy, self-doubt. 
Declare your manifestations out loud. This is essential in the process. You are everything you want to manifest. 
Attract what it is you seek for your life by becoming it in every moment and watch your desires manifest in the most divine of ways.
Happy Full Moon!
Location // Four Moons Spa, Encinitas, CA
Shannon Aganza // @moongathering
Featured // @juna.world @museapothecary @modelmeals @child_of_wild
Photography by // @tarynkentphoto