Cleo Women
Design 4 Corners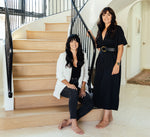 Can you tell us a bit about yourselves and your journey to where you are today?
First off we're sisters. We started our company about 15 years ago before Elaina moved to Bali. We had big dreams but it took a while to get things off the ground. While things were busy in Bali, in the beginning things were slow in California because of the crash in 2008. Our business really took shape in Bali and grew in California. It's been a wild ride and we've learned a lot.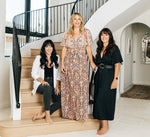 How did you and Ange meet and become friends?
Angela and Elaina met in the Bali airport during a delayed flight going from Bali to LA. We both had little toddlers at the time and after a few laps around the airport to kill time, our boys eventually started to play together and the rest is history. Angela, Jim and the kids would come to Bali a few times a year and when they did we'd always spend time together. Our kids have grown up together and we consider them family.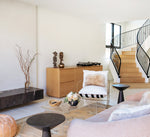 What did you draw inspiration from when you designed Ange's house?
The inspiration really came from Angela. She had a vision and we helped her expand on her vision and bring it to life. There was a lot of inspiration from her travels not only in Bali but also India.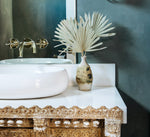 What is your favorite detail or room?
That's a tough one, as we really love the way all of the rooms came out but the powder bathroom is one of my favorites. We love all of the details. The old world look with the black and white tumbled limestone, the gorgeous chest from India, the sconces we found at one of my favorite vintage shops in Oceanside, all tied together with one of my favorite Portola Paint Colors, Nitty Gritty in their Roman clay finish. The room has such an eclectic feel and we think it's a beautiful snapshot of Angela's style.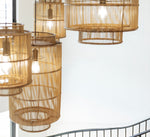 Do you have a favorite project you have worked on?
We have a few different ones and of course Angela's home is a favorite but Mandala House was a good one. It was both challenging and inspiring.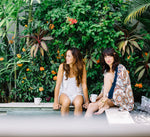 A favorite spot in your own homes?
Elaina; I'm still designing and fixing up my home but so far I would say my living room. It's got a lot of my treasures from Bali mixed with California vibes and it's where my family and I like to curl up and spend time together.
Susanna; This one is tough for me, as every project has taught me a valuable lesson. I'm still learning.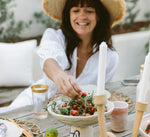 If you could give one design tip to our community, what would it be?
Don't worry about what everyone else is doing. Focus on what it is that brings you joy and expand on that. That's what's going to tell your story. If it makes your heart skip, then it's a yes. And remember. There are no rules.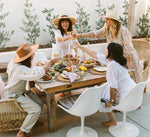 Do you have any daily rituals that you could share?
Elaina; I try to have quiet mornings before my family wakes up where I can meditate, have coffee time and workout.
Susanna; My mornings are special to me. I try very hard to not think about the work load, till 9am. So from wake up to 9am I slowly wake up. Coffee, husband time, walk, and I make my "get ready" routine sacred.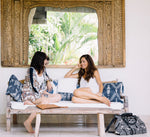 How would you describe your style?
Eclectic, well traveled, and well loved.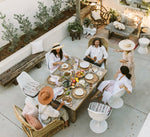 What is your favorite part about the summer season or a favorite summer tradition?
Elaina; Beach days with my kids.
Susanna; The long days.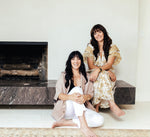 What is/are your favorite thing(s) to do on a free weekend?
Elaina; Get things done on my home and hang with the kiddos.
Susanna; I agree with Elaina. It's nice to focus on your own home when not working.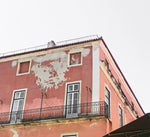 What is your favorite place you have traveled to that inspires your work?
Elaina; This is tough. I love Europe, I love Mexico and I love Greece. All these places give me endless inspiration for design.
Susanna; For me it's Paris, and Turkey.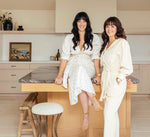 What are a few of your favorite IG accounts you follow for inspiration?
I love following other designers, seeing things through their eyes- @eyeswoon @heidicaillierdesign @kellywearstler @martynbullard @transitionstatedesign @haris.kenjar