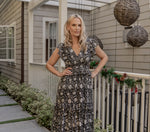 How would you describe your style?
I am all about comfortable fashion. I would love to be that person who is glammed up all the time, but I'm not! Half of the time I'm in workout clothes or sweats for carpool… but then I do also love to throw on a great dress and heels from time to time.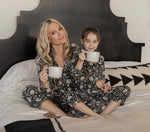 What is your favorite part about getting dressed during the holiday season?
My favorite part about getting dressed during the holiday season is taking family pictures and having all of us looking nice together. I love a little sparkle too. We make more of an effort during the holidays and it really gets you in the spirit. I love making memories with my family — whether we're all going out to dinner, seeing the nutcracker, or seeing the holiday lights. We have our traditions that we go back to every year.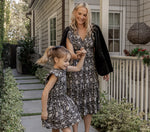 When you were designing this collection, where did you gather inspiration from?
I love a monochromatic color scheme or a block print (or any type of print, really)… and this block print is everything. I love the black and cream — it's so universal and looks good on literally everyone. The little sparkle in the thread can take you from an everyday look and into the holiday season.
Where do you imagine a woman would wear these designs?
What I love about the Molly dress is that you can really take it from day to night because it's so versatile. During the day, you can be more casual with a pair of sneakers and still look super chic. Or if you're going to the beach you can pair it with great sandals and a sweater. For nighttime, you can dress it up with a sleek jacket, heels, and diamonds. It really is so universal.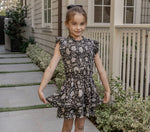 How would you style the Molly dress for a holiday party?
For a holiday party, I'd throw on a chic black blazer and some sparkly heels. I'd either do a dark smoky eye and a nude lip or dramatic lashes with a red lip. I like to add a little shimmer to my collarbone and arms too.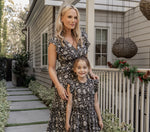 Who would you gift the Sims PJ Set to?
Every single one of my friends and their children. There's already a waitlist… My tribe is strong!