Cleo Woman
Molly Fienning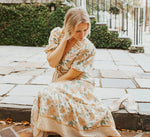 Can you tell us a bit about yourself and your journey to where you are today?
I am a born-and-raised NYC girl who married a military fighter pilot from the South and landed in Charleston, raising our two sweet boys. I am also a serial entrepreneur, having co-founded and am Co-CEO and CEO respectively of Babiators and Red Clay Hot Sauce.

Red Clay is a fast-growing, Southern food business, crafting hot sauces, hot honeys and spice blends rooted in quality ingredients and exceptional flavor. Based in Charleston, Red Clay was named "Tabasco for the 21st century" by Food and Wine Magazine and the "hot honey to elevate your meal" by The New York Times.
Babiators is the leading sunglasses brand for babies & kids (with 4+ million pairs sold), named one of Forbes' 100 Most Promising Companies. The shades have been worn by kids of Justin Timberlake, The Kardashians, Hilary Duff, Sarah Jessica Parker, Jennifer Garner, Gabrielle Union, Pink and more.
I also care a lot of empowering other female leaders and female business owners. When I'm not with my boys or working, I am a strong advocate for empowering women in business. I love hosting events at our home to highlight female entrepreneurs in the city. We live in a good ol' boy state, but Charleston is a city run by enterprising women.
Photos by: @suz_film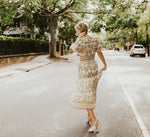 What's one piece of advice you would give to your younger self?
You are exactly where you're supposed to be in this very moment. Enjoy the process, the good, the bad, the mess, the journey. There's no need to rush because all we have is right now.
What's your favorite part about getting to be both a small business owner and a mama?
I love that I'm demonstrating to my boys the example of a working mother who genuinely loves what she does. That said, it is not easy (and often, pure chaos) to own a thriving business AND be an active mama, and there are certainly days when I feel like I am failing at everything. Yet I've learned as I've gotten older that failure is not a bad thing. Quite the opposite, it's a stepping stone on the way to new learnings growth, to an exciting fork in the road, to more success, joys and certainly future failures and hardships too. But it's about ALL of it. That's what makes life (and you!) interesting and complex.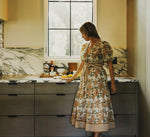 Do you have any daily rituals that help keep you grounded?
Since I work hard during the day, I try to be mindful of the bookends of my day—for my family and for myself. We always try to enjoy a nourishing family breakfast together. And once my boys are off for school (their father's in charge of morning drop-off), I make myself my first cup of coffee for the day and bring it to the front porch for a moment of nature and quietude. Then I spend some time journaling, meditating or reading something reflective before starting my work-day. I want to be mindful of the tone I set for my day ahead, not letting an abrasive or falsely-urgent email or Instagram FOMO set the wrong energy. I enjoy my second coffee of the day when I'm ready to turn on my computer and start the workday! I like my coffee strong and sweet, like I like my man.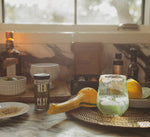 What's your favorite go-to weekday recipe? Cocktail recipe (besides our already favorite margarita of course!)
In the summertime, I make the most delicious, fresh gazpacho with local tomatoes, cucumbers and peppers, courtesy of the New York Times and Julia Moskin. My girlfriends and I sip it out of glasses like an aperitif. I can't take credit for it at all, but I receive requests to make it a lot -- thank you Julia! ☺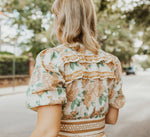 What is your favorite part about getting dressed for warmer weather?
Getting out on the water in Charleston. Also, sundresses.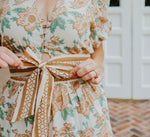 What do you feel most confident in?
It's a flirty dress with heels or nothing at all.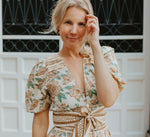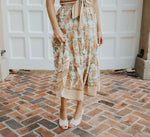 Any upcoming travel plans or bucket list destinations you can't wait to visit?
My husband is stationed in Europe with the military through the fall, so I hope to take the boys over and meet in France in Basque Country…which we haven't yet visited. In March, I'm planning for a trek through Bhutan with a girlfriend, which will be a lifetime bucket list item for sure.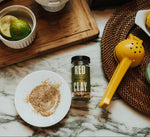 What is a favorite quote of yours? Or a special saying that you go back to time and time again?
Earth's crammed with heaven,
And every common bush afire with God;
But only he who sees takes off his shoes…
--Elizabeth Barrett Browning, Aurora Leigh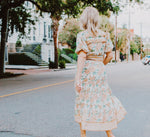 Do you have any book recommendations or favorite IG accounts to follow for our community?
My favorite novel that I've read this year so far is Midnight Library by Matt Haig—it is breath-taking. I also am studying some awesome works for growth, compassion and leadership by Richard Rohr, Eckert Tolle and Ryan Holiday.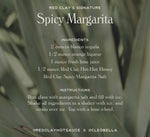 Spicy Margarita Recipe