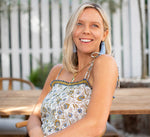 Can you tell us a bit about yourself and your journey to where you are today?
I've always been fascinated by the cultural, spiritual, and anthropological angles of fashion. Why do people wear or buy certain things and what does it say about them and their world? My curious nature was strengthened during my 20s, when, upon graduating from Vanderbilt with a major in Chinese and Sociology, I worked in Shanghai, China for six years as a fashion editor, freelance writer and trend-forecaster.That incredible time of exploration around Southeast Asia and self-reflection left an indelible mark on me, forevering instilling an insatiable curiosity about the world and my place in it.
For centuries, jewelry has been supercharged with personal sentiment and talismanic meaning, especially family heirlooms and the contemporary 'fine jewelry' category. There are several incredible modern, 'for women by women' brands like Marla Aaron and Foundrae which tap into this jewelry ethos; however, there was nothing inspiring in the 'costume jewelry' space for women like myself who couldn't afford to spend thousands of dollars on a solid gold necklace. While I launched my brand with my signature tassel earrings in 2016, in the last two years I've shifted my brand focus to 'soulful adornment' and expanded our designs to high-quality, personalized gold-plated jewelry and beaded mantra bracelets. Our team's north star is "Outer sparkle ignites inner spark.' In other words, I want to create a brand and quality-yet-affordable designs that help a woman tell her personal story and empower her to live her most authentic life.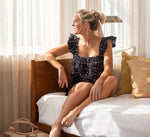 What's one piece of advice you would give to your younger self?
1) To not be so concerned about what the 'cool people' think of you. 2) It's ok to have imposter syndrome. I am not a professionally-trained jewelry designer. I have learned through mentors, freelance team members, and watching a lot of Youtube videos! It is ok to learn as you go, ask smart questions, and own up to your mistakes.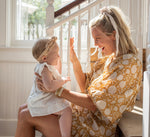 What's your favorite part about getting to be both a small business owner and a mama?
Running a business means that every day is a new learning opportunity. Once we hit a goal, it's right onto the next hurdle or project. But, we need to remember to slow down and celebrate the wins, otherwise we can get burned out. We have a 'sparkle fund' in our business that we use for celebrating milestones. Team drinks (dirty martini with extra olives) and celebratory lunches are essential in my opinion! As for motherhood, I am grateful my business affords me a more flexible schedule whereby I can spend more time with my daughter and be available for her when I need to be. When I'm with her, I try to be 100% present in the moment. No multitasking. Just enjoy looking at the world through her eyes!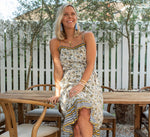 Do you have any daily rituals that help keep you grounded?
Taking my giant, floofy dog Bluebell on a walk in Hampton Park to listen to the trees and birds. I'm also challenging myself this summer to commit to at least 30 minutes of drawing and painting every day.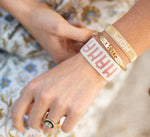 What's your favorite go-to weekday recipe?
My green smoothie I have for breakfast every single morning without fail. Kale or spinach. A green apple. A banana. Pure frozen passion fruit pulp. Lime juice. Water and fresh mint from my garden. Lately I've been adding some full fat greek yogurt to bulk it up a little more since I'm 5 months pregnant and need a little more oomph!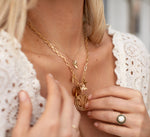 What is your favorite part about getting dressed for warmer weather?
Nothing better than throwing on a simple dress with a sparkle of gold jewelry, a great leather sandal, air-dried slightly messy hair. I'm a summer baby through and through. I love short dresses that cinch at the waist so naturally I love the Magdalena dress because it's both flattering and comfortable. Also great for accommodating a growing pregnant belly!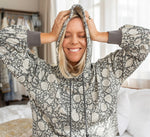 What do you feel most confident in?
After a surf or swim at the beach, I love just lounging in my swimsuit with a vintage band tee tossed over it. Loving Hunza G suits lately.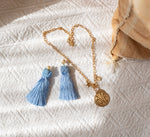 What is your favorite piece you have designed?
I adore my custom charm jewelry, steeped in meaning and soul-boosting empowerment. I recently launched the new Flying Pig charm, which is inscribed with 'Maiora Spera' which translates as 'Dream Bigger' in Latin. Don't be limited by outside programming or negative beliefs. I also find peace in the Cracked Heart pendant, inspired by the Rumi quote "The wound is where the light shines in."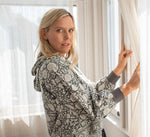 What inspires you?
Spirituality in all its forms. The cosmos and how we figure out our place in them. Wild botanicals in tropical places. Artists Helen Frankenthaler and Hilma Af Klimt. Being inside beautifully-designed spaces like luxury hotels and stately homes. Candid conversations with fellow business owners and artists.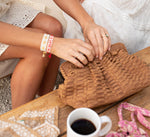 Any upcoming travel plans or bucket list destinations you can't wait to visit?
We are going to cool off this summer at my husband's family home in the idyllic, breathtaking mountain town of Cashiers, NC. When international travel opens up, I dream of renting a house for a month in Crete or Tangier with my husband and kids. I want to slow down, sink in, and learn the local culture and history. Whether it's a long weekend or a month, I always bring a stack of books, journals and my watercolor set.
What is a favorite quote of yours? Or a special saying that you go back to time and time again?
"It takes life to love life." In other words, you get out of life what you put in. So make the effort. Set your alarm and watch the sunrise on the beach. Host dinner parties. Visit an elderly friend. Volunteer your time.
Also… "Let go, or be dragged." This is so profound yet easy to forget, so I designed a bracelet as a wearable reminder to not get bogged down about things we cannot change.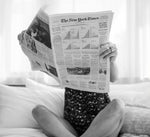 Do you have any book recommendations or favorite IG accounts to follow for our community?
The Artist's Way is a very wonderful tool that has helped me to hone in on my passions and creativity. When I'm feeling down or anxious, I reference Deepak Chopra's Seven Laws of Spiritual Success and Eckhart Tolle's Power of Now to ground myself again. For a fun, witty summer read about growing up in Charleston, I have to share that my sister, @GervaisHagerty, is publishing her debut novel 'In Polite Company' with Harper Collins in August 17.