Cleo Woman
Trish Andersen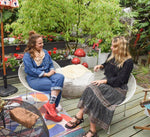 Can you tell us a bit about yourself and your journey to where you are today?
My name is Trish Andersen. I am a fiber artist living/working in Savannah, Ga. I had a career in the event/styling world for years in NYC and discovered tufting as I was seeking a more intentional way of working and getting back to creating my own art. The tool I primarily use is called a tufting gun. It is typically used in the manufacturing of hand tufted rugs but I use it to create my artwork and "paint with yarn"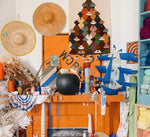 What's your favorite part about getting to create for a living?
I love being able to think of an idea and then bring it to life-it like magic. I also find a lot of peace in creating. It is my meditation. In turn, I hope it brings happiness to others as well.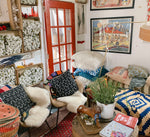 Do you have any daily rituals that help keep you grounded?
I try to keep a pretty regular routine and wake up at the same time, drink my coffee, get emails out of the way in the morning, etc. This helps me clear my head for ideas and creating the rest of the day.
What's one piece of advice you would give to your younger self?
Don't care what other people think.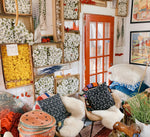 What's your favorite go-to weekday recipe?
I love a good smoothie in the morning and otherwise love to cook when I have time so I am always trying out new stuff. I have been loving Molly Baz's new cookbook "Cook this book"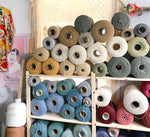 What is your favorite part about getting dressed for warm weather?
We know it's sweltering in Savannah this time of year! It is SO hot! But at least it makes for less decisions in the morning :) My key for the summer is light and airy and nothing that is too tight on my body- Cleobella has so many perfect options! Easy breezy!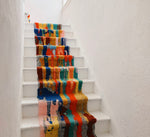 What is your favorite piece you have created?
I had leukemia when I was little and my first memory of art making was in the clinic where I was getting treated. A few years ago, I was commissioned to create a huge piece for a Peeple's Cancer Center in my hometown. It was really special for me to have this full circle moment and be able to make something that could help people during such a hard time.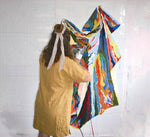 What inspires you?
SO many things! I am like a sponge when I walk around. It could be a color of a leaf to a pile of trash. I LOVE the energy of color and thrive on the push and pull of playing with it as I create. I also am super inspired by repetitive process and am always trying to get to the ultimate flow state while I'm working.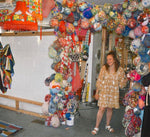 Any upcoming travel plans or bucket list destinations you can't wait to visit?
I need to get something locked in! I am getting married this year (finally after many delays of 2020) so trying to get through that first BUT I'm dying to get to Morocco, Portugal, my favorite village in France- Lacoste, and the list goes on!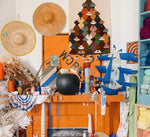 What is a favorite quote of yours? Or a special saying that you go back to time and time again?
When I was getting back to creating my own art again a friend said to me " Create what you want to see in the World" I think of this often and think it is a wonderful reminder to just be yourself the rest will fall into place.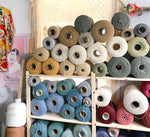 Do you have any book recommendations or favorite art IG accounts to follow for our community?
@ruthribeaucourt -a good friend of mine that lives in France and has the most beautiful feed antique textiles + stories of creative's via @faire.press
@chiachong - gorgeous photography
@hello.shannon -fun happy illustrations and quotes
@tatianacabralsmithjewelry - simple but wonderful everyday pieces
@northpolepdx - art studio and exhibition space in Portland for artists with autism and intellectual/developmental disabilities to pursue careers in the arts
@abelmac - super fan of his work.