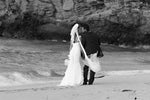 MUMU x CLEOBELLA // BEST DAY EVER
MUMU x CLEOBELLA // BEST DAY EVER
Wedding season excites me, I think back to 14 years ago when I was just a little girl, in love with a boy and planning my wedding day. It was literally what fairytales are made of, white horse and carriage, no joke! All our favorite humans in our favorite place, Maui.  
Planning your "best day ever" is a milestone moment in your life, it's the celebration of lasting love, the commitment to each-other,for better or for worse, and a new chapter in your life's journey.
We are honored to collaborate with Show Me Your Mumu to help celebrate your "Best Day Ever" together. We carefully designed each individual bag with this special day in mind and for the many special days to come.
I cherish my marriage and my precious family that has grown over the last few years. Today I'm reminded how far we've come,
and the journey that lead us here. Wishing all the brides to be, love and laughter, forever and ever!