Cleo Woman
Sharlene Kayne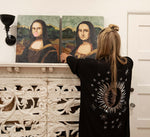 Tell us about your art...
I started creating torn handmade-paper collages about 10 years ago when I saw something similar to what I'm doing today. My work has changed over time as I learn more and more about the properties of the handmade-paper that I use in my collages. I like to say I'm self-teaching instead of self-taught, so the process is ongoing.
What is your personal style and who inspires you?
My style is relaxed and comfortable, both in my clothes and in my home. There's no one thing that inspires me, but I love being inspired by something new and unexpected.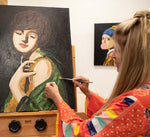 How did you learn about Cleobella?
I first learned about Cleobella through Instagram! I was thrilled to have one of my interior posts reposted by Cleobella, then I instantly fell in love! Not only with the clothes, but also the collaboration with artisans and the philosophy of the company.
What is your dream for the future?
I hope my future is full of as many rich experiences as my past. I love to travel near and far, and I love to explore and learn something new every day.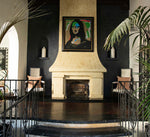 What is your aesthetic?
The aesthetic in my home is definitely eclectic. That being said, eclectic is a pretty broad term. More specifically, I like one of a kind pieces that tell a story. I lean a little toward a whimsical vibe.