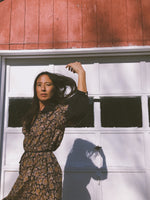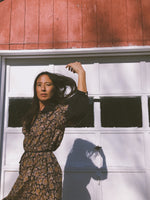 Can you tell us a bit about yourself and your journey to where you are today?
"I've always loved reading and writing so when I moved cross country from Northern Virginia to Tucson to go to college I majored in creative writing and mass communication and minored in english literature. After I graduated I moved all the way back cross country to Boston to get my Master's in journalism. From Boston I moved to New York, waited tables and tried to make it as a writer, realized I wasn't going to make as a writer, gathered up all my transferable skills and started working as a copywriter while also running a small floral business out of my apartment and then I went ahead and picked writing back up again for publications like New York Magazine, Harper's Bazaar, Domino Magazine, Atelier Dore and T Magazine and here we are".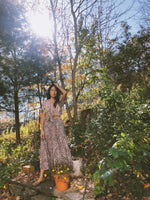 We're so excited about your new book - UPSTATE. What inspired you to create this project?
"The honest, unromantic answer is that this was the concept the publisher approached me with. The framework was already in place before I was even tapped to write the book BUT in an alternate reality where I pitched upstate to the publisher, my pitch would go something like this, "Upstate has always been a big part of our lives. When my husband (who's from Syracuse) and I first met it's where we would escape to on the regular—he got his masters upstate so he had a solid crew and community of friends in the area that we kept in touch with. Then we bought a house in the Western Catskills and our social circles in the city all started expanding into various far flung towns upstate".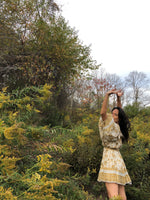 Do you have a favorite home that you featured in the book? A favorite spot in your own home?
"Ahhh...that's like asking a parent if they have a favorite child. I liked each of the homes in equal measure—each place had something wholly unique to offer and was truly special unto itself. As far as a favorite spot in my own home goes, I suppose it kind of changes throughout the day: I love sitting at the dining room table in the morning when the sun falls on it full force. I love hanging in our little galley kitchen on a stool in the corner chatting with my husband while he cooks dinner. I love sitting in our backyard at the table under the globe lights we have strung across it and on our porch when it rains and on our deck in front of our fire-pit in the fall".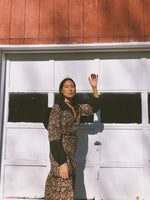 If you could give one design tip to our community, what would it be?
"Be patient and take your time. Spend time in your house before making any huge changes...you need to figure out how you live in it first. Watch as many YouTube "How To" videos as you can. Do as much of a project as you can yourself. Never underestimate the power of a textured layers: a nice quilt, a soft blanket, nice pillows".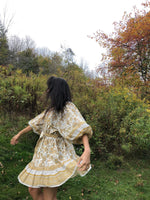 With the weather getting cooler, especially where you are, we'll all be spending more time within our own homes. Do you have any tips for not going crazy when you're cooped up inside?
"Stock up on good lightbulbs, a warmly lit home makes all the difference (at least to me). Candles and incense help too. Find (or better yet, make) a really good playlist, it'll make cooking dinner that much nicer and if you're lucky, prompt a dance party".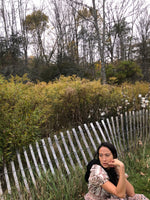 How has quarantine impacted your life? What are some practices you have found to be helpful during this time?
"Watching shows that make me laugh. Taking deep breaths. Letting myself have a breakdown when I need to. Keeping in touch with family and friends. Going for walks".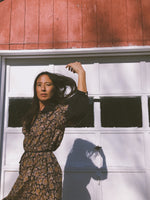 Do you have any daily rituals that you could share?
"Dark chocolate with coffee in the morning. Burning incense and lighting a candle in the evening".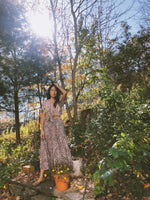 What is your favorite part about getting dressed for fall weather?
"To be perfectly honest I really, really hate cold weather so finding a favorite part about getting dressed for it is tough BUT I will say that there's a sweet spot when it's cool but not cold, where I don't need gloves or a hat yet, when a mid-weight jacket does the trick and that moment is pretty sweet".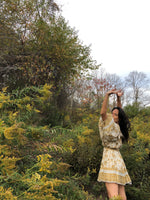 What is your favorite part about the fall season or a favorite fall tradition?
"I love the way dried leaves smell in the fall, it's just the best. Even better? Catching a whiff of dried leaves and the smell of someone burning a fire. It's just so reassuring and completely takes me back to such a specific place in time".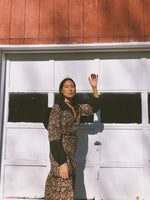 What are you looking forward to cooking for Thanksgiving? Do you stick to traditions or always like to try new things?
"Oh man, I am a traditionalist to a fault. I like cooking the same dishes every year—it gives the whole meal such a sense of ritual and familiarity that just feels so warm and reassuring. The side dishes are hands down my favorite part of the entire meal—I mean, turkey is great but stuffing and a good sweet potato casserole are what really do it for me".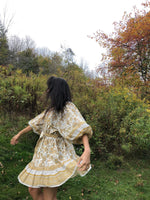 What are a few of your favorite IG accounts you follow?
@sincerelytommy_, @brothervellies, @getclever, @reathdesign, @rudyjude, @april_valencia, @marahoffman, @remodelista, @newyorkercartoons, @costarastrology, @notallgeminis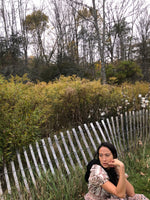 What is/are your favorite thing(s) to do on a free weekend in the cooler temperatures?
"Stay inside, make a fire and play a game of gin rummy. Cozy up in bed and watch a movie. Cook a big pot of stew".