Cleo Woman
Kristen Flores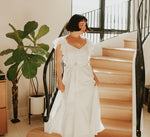 What inspired you to launch Muse Bath Apothecary? When did you launch the brand?
"Muse Bath Apothecary was inspired by my passion for self-care rituals, holistic beauty and wellness. Muse Bath was launched on October 1st, 2016".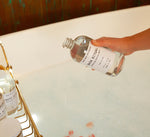 What has been your biggest challenge as an entrepreneur?
"I love being an artist and becoming an entrepreneur has allowed me to channel my creativity into growing a business. I find that being an entrepreneur is not what challenges me. What has been most challenging for me is too learn how to acquire the patience for growing a business into the modern world. It is very easy to fall into the "insta" mindset when it comes to designing a successful business and I have learned from the past few years that patience and resilience are my greatest teachers".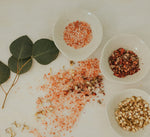 What are you doing to stay busy at home?
"My sanctuary is my garden. I have been planting a Muse Garden for the past five years with native Californian plants. I love being in a relationship with nature and learning how to care for healing and medicinal herbs and flowers. I also love the meditation and practice of Tea Ceremony".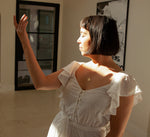 What is your favorite way to practice self-care?
"Honestly, self-care comes in many forms and is unique for every individual. Some of my favorite self-care rituals are taking Muse Baths, cooking healthy meals, practicing tea meditations, daily movement and spending time in my garden and in nature".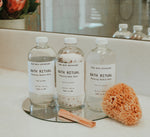 Do you have any fun recipes for self care products that we can make at home?
"Yes, as we are now in the beginning of Spring I love to create Herbal Bath infusions for Renewal and Hydration. I love to use fresh herbs and flowers from the garden and create a bathing tea that I can soak in. If you do not have a garden, you can either buy fresh or dried herbs online and use those to make an herbal tea infusion as well. And if you do not currently take baths or have a bathtub I highly recommend using this ritual as an herbal foot soak or bathing in the shower ritual".
Directions; First gather and wash a handful of herbs like Calendula, Mugwort, Lavender, Rosemary, Thyme, Rose Petals and Peppermint and place inside a mason jar or pot where you can add hot water to them. Then pour hot water onto the herbs and allow them to steep to be able to make a tea infusion. Cover the jar or pot with a lid and some linen and you can let the tea infuse in the sunlight for about 4-6 hours. I also let the tea infusion sit overnight before a new and full moon and add it to my bath ritual for a Muse Bath Moon Ceremony. When you are ready to take your bath ritual you can then pour the tea infusion into the bath water and enjoy the healing benefits of bathing in an herbal elixir for the mind, body, soul and skin!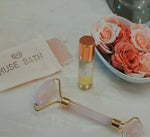 What are your tips for staying healthy and practicing self-care at home right now?
"First and foremost, wash your hands with soap and warm water. Second take deep nourishing breaths throughout your day. The breath guides our awareness into our body and strengthens the connection to our health and wellbeing. Third, be mindful of what you are consuming throughout your day. It is important to use this time to renew your soul and spirit during a time of crisis. Allow yourself to process any emotions and fears that are coming up and trust that you are finding new ways to take care of yourself and your loved ones. And lastly, make sure to drink lots of warm fluids. Warm teas, soups, water with lemon to help hydrate your immunity and respiratory vitals so that we can nourish and protect ourselves the best we can".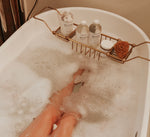 Do you have any tips for first time Moon Bathers?
"Moon bathing is all about reflection and connecting inward to the cyclical flow within your body, mind, and spirit. When we connect to our inner rhythms we can feel into the energy of the lunar cycle and see what we need to reflect on within ourselves. Creating a Moon Bath Ritual can be as simple as sitting outside under the moonlight to creating bath rituals for the New and Full Moon cycles. Let your intuition guide you".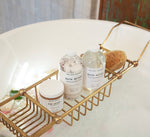 What is your favorite product that you make? Which do you personally use the most?
"I love making my bespoke natural perfume offerings. Every perfume is hand-fragranced with intention and smell divine. My current Muse Bath faves are the Muse Body Ritual Sugar Scrub, Fleur du Rose Bubble Bath and of course I use my Manifest Mist everywhere I go".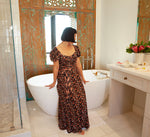 We know you are also interested in astrology and moon cycles.. What is your sign? How do you see that represented in your life and work?
"I am an Aries Ascendent Rising, Capricorn Sun, Sagittarius Moon. In Human Design I am a Manifesting Generator. Astrological guidance has always had a special place in my life. I have always felt a cosmic connection to the stars and natural cycles here on Earth. Just as we see patterns in nature, we can also feel those patterns within ourselves and to each other. Most of my creativity and beauty rituals are directly inspired from my connection to the natural world".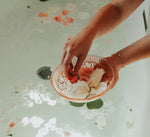 What are your favorite books / movies / games / podcasts that you would recommend to keep our brains active and happy?
"I love reading books on Astrology, Tea Ceremony and Ancient Beauty Rituals. I love listening to podcasts like the Expanded Podcast by Lacy Philips, Cosmic Cousins by Jeff Henshaw and How I Built This with Guy Raz".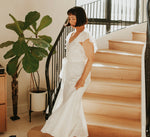 How would you describe your personal style?
"My personal style icon is Diane Keaton. My favorite looks are "Safari" inspired. And I adore a beautiful hat".