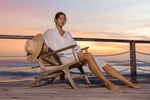 A Guide to Slow Travel
A Guide to Slow Travel
A Guide to Slow Travel
What is slow travel?
Slow travel is a mindset and approach to exploring the world and uncovering its beauty. It emphasizes immersing oneself in the local culture and savoring each experience, rather than rushing through multiple destinations. Here's a breakdown of how to embrace the art of slow travel:
Choose a Destination
Select a place that intrigues you and offers a wealth of cultural, historical, and natural attractions. Slow travel is particularly rewarding in destinations rich in heritage and local traditions.
Packing tip: Be mindful of the weather at the destination you choose. It's very important to consider as you choose which pieces from your closet you wish to take with you. It can be a great idea to take versatile pieces with you on your journey! Our Kamala Kaftan is the perfect tagalong for a variety of destinations. Its light fabric makes it breathable, while it has optimal sun coverage.
Extend Your Stay
Rather than cramming numerous locations into a short trip, plan for a more extended visit. Stay in one place for an extended period, allowing yourself to truly delve into the local rhythm and way of life.
Packing tip: Consider bringing clothing items that work well together with you. Bringing coordinated clothing can provide you with an abundance of options on an extended vacation. Try bringing some neutral items like our Valentina Pant that will match with any top while simultaneously bringing an effortlessly sophisticated flair to any outfit.
Embrace a Relaxed Pace
Slow travel encourages you to slow down and enjoy the journey. Avoid the temptation to check off a long list of tourist hotspots. Instead, take your time to savor each experience, whether it's wandering through local markets, having leisurely meals at neighborhood eateries, or engaging in meaningful conversations with locals.
Packing tip: Bring a crossbody bag with you on shorter, less taxing adventures. Crossbody bags provide an easy touch of elegance to any ensemble as well as helping you to sustain your energy by carrying a lighter load. Our Dylan Woven Handbag, equipped with its own crossbody strap, will help you blend in with locals and be your perfectly chic vacation companion.
Immerse Yourself in the Culture
Seek opportunities to connect with the local community. Engage in cultural activities, attend festivals, visit museums, or participate in workshops. Learn about the traditions, customs, and history of the place you're visiting, fostering a deeper appreciation for the destination.
Packing tip: Immersing yourself in your destination will inspire you to take lots of photos! Bring pieces with you that help you feel beautiful, and make you want to look back at photos you took for years to come. Dress to take memories with our unique Cleobella pieces like the flattering Lorenza Ankle Dress.
Explore Off the Beaten Path
Go beyond the tourist areas and venture into lesser-known neighborhoods or regions. Discover hidden gems, interact with locals, and gain a more authentic understanding of the place.
Packing tip: Bring a durable backpack with you, like our Indah Backpack which provides convenient space for long adventures and is stylish at the same time.
Utilize Sustainable Transportation
Opt for more eco-friendly transportation methods whenever possible. Consider walking, cycling, or using public transportation to explore the area, allowing you to immerse yourself in the surroundings while minimizing your environmental impact.
Packing tip: Prepare yourself for open-air travel by bringing hats with you. Our Leon Palm hat will keep you perfectly shielded from the sun so that you can stay comfortable on your adventures.
Allow for Spontaneity
Embrace flexibility in your itinerary. Leave room for unexpected discoveries, spontaneous adventures, and opportunities that may arise during your journey. Serendipitous moments often lead to the most memorable experiences.
Packing tip: It's a good idea to bring an outfit with you that can transition from relaxing to more upbeat activities. Our Sefina Jumpsuit is stylish but ready for anything, and perfect for taking with you on your spontaneous adventures.
Disconnect and Be Present
Slow travel is an opportunity to disconnect from the digital world and be fully present in the moment. Limit your screen time, savor the local flavors, appreciate the scenic views, and engage with the people around you.
Packing tip: It will be easy to get carried away with busyness on your trip. Prepare for relaxation by bringing your favorite pair of comfy pajamas. Add an extra touch of luxury to your vacation with our Estela Robe.
By embracing the principles of slow travel, you can cultivate a deeper connection with the places you visit, gain a greater appreciation for different cultures, and create lasting memories that extend beyond mere sightseeing. Let the allure of slow travel guide you on a kaleidoscopic journey where magic and connection weave together in a symphony of wanderlust.