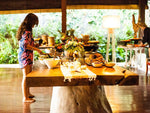 GIVING THANKS IN BALI
GIVING THANKS IN BALI
On Thanksgiving, we got together to give thanks and celebrate life with a traditional American Thanksgiving in Bali.
We have so many amazing friends in Bali while some of our friends here are American, most of them are a mix from all over the world!  This year our dear friends from
Sisters of 4 Corners
created a beautiful thanksgiving dinner which made us feel like we were home.  Even though we miss having our family with us on this holiday, it was so special celebrating with our closest friends here.  We all enjoyed eating foods like turkey, mashed potatoes, cranberry sauce, and pumpkin pie - it's not every day you get to have these foods in a tropical paradise like Bali! 
It's so important to us to take the time to teach our children the value of gathering with friends and family and reflecting on all of the amazing blessings we have in this beautiful life.  Here's a little glimpse into our holiday-  I hope all of you had a Thanksgiving holiday filled with love, laughter, friends & family!
 Photography:
Michelle van Dijk
Follow the Sisters of 4 Corners on Instagram
here!