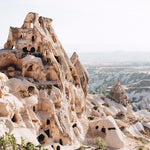 Cleobella Travel Diaries // Installment No. 2
Cleobella Travel Diaries // Installment No. 2
As I sit down to write this, I'm replaying the last 2 months in my head, and my heart is overflowing.  We started our journey showing our new collection in New York and Paris at Capsule Trade show, stopping for some R&R (while designing our Summer collection) in Montauk in between.  After Paris we headed to Ireland before going to Turkey, where I searched for inspiration for our Fall collection, and shot our Resort Campaign in Cappadocia.  We ended the journey in Amsterdam, catching up with friends and exploring the city where Jim and I first fell in love.  We've been back in the US for a week so Keenan and Indigo can celebrate Halloween with family and friends and while I feel so present and so happy to be home, my heart longs to be back on the road.  Maybe it's my gypsy soul that's drawn to this lifestyle, or maybe it's because there's something about travel that makes me feel
so
alive.  When I reflect on our recent journey, I realize that it's the element of change that makes traveling so incredible.
 Change can be scary...it's normal to have some hesitation when leaving the confines of your comfort zone.  When I think back on my life, I notice that it's in moments of deep change that I experience profound growth.  Leaving my hometown for the first time, falling in love, breaking up, having a child, losing a loved one; the common ground among all of these life experiences is that things were changing.  When I step back and think about it with a wider scope, I realize that those moments, while sometimes uncomfortable, have really formed the person I am today.  I think travel is all about change in a similar way.  Each new country, new city, new culture- experiencing a way of life I've never seen before- it's all a change from normal routine.  The break from monotony causes an instinctual response of alertness; making me feel so full, so alive, and limitless.  Suddenly, I see the world, and my own life, through the eyes of a child, and I'm overwhelmed with the realization that beauty and magic are everywhere.  From this vantage point, I begin to see inspiration in the tiniest things.  From the gloomy skies of ireland contrasted against fields of emerald, the twinkling gold lights of the eiffel tower at night, the texture of time-weathered cave dwellings in ancient Cappadocia, I've absorbed the beauty of all of these things, and with deep gratitude accept them as gifts from the Universe.  I can only hope to pass on the spirit of each city through my designs; where all the inspiration and magic I've experienced is translated into objects that hopefully people will wear with love and a deep reverence for their lives.
/  /  /  /  /  /  /  /  /  /  /  /  /  /  /  /  
We began the journey in New York, and although I've been to this city many times, it never ceases to amaze me.  There's an undeniable energy here, it flows through the streets breathing life into every corner.  New York has this incredible rawness and grit to it, which I find so inspiring and refreshing.  We debuted our Spring 2016 collection at Capsule Trade Show here, and it's always so exciting and nerve racking to see how the collection will be received.  I honestly think that our New York trade show was one of the best in Cleobella History.  We have such an amazing team both in California, Bali and now India that are working so hard together to make the magic happen and to them I'm sincerely grateful.
After the hustle and bustle of New York City, we drove a couple hours to Montauk, New York.  We've never experienced the quaint little seaside towns on the East Coast, so our stay here was so special!  Jim got to surf some new waves, and the kids and I enjoyed some quiet beach days and I completed our Summer 16 collection.  The beauty of having our own family business is that we can work anywhere in the world, which often means that completely unplugging is a rarity.  Nevertheless this trip was so meaningful for our family.
We headed to Paris after New York to show our collection for the first time.  We really had no idea what to expect, but it was such an incredible experience testing the line in the European marketplace! Paris is one of my favorite cities on earth, and I hadn't been back in many years.  Despite the fact that I've grown so much since my last visit, now married, with two kids, and my own business, Paris still captivated me as much as it did when I was first went there 15 years ago. The historic, ornate architecture, the effortless elegance of Parisians, and the majesty of the eiffel tower are truly inspirational.  Exploring the winding streets at golden hour, indulging in rich french foods and wine, riding a pedicab through the city streets at night as the eiffel tower sparkled in the distance; these are the moments that I'll cherish forever.  It was so special seeing my babies under the eiffel tower; and I can only hope that these memories and new experiences are shaping them as much as they have shaped me.
Our next stop was back to the motherland.  This trip was designed around the surf for my wave chasing hubby.  In an unexpected way, Ireland was a profound, perspective-shifting experience.  My daughter Indigo got sick, and even though it was challenging to have a sick baby while in a foreign country, it really forced us to slow down and have some quiet family time. We went blackberry picking, explored centuries old buildings, stopped to watch sheep graze over green hills, and cozied up in quiet cafes on gloomy afternoons.  These simple pleasures, and the time to relax and reflect in nature, particularly in a place where my mother was born, was such a grounding experience.  It opened my eyes to the realization that inspiration is everywhere if you're open to finding it.
I can't even begin to explain how incredibly magical our experience in Turkey was.  Istanbul was a city that I've always wanted to travel to.  It's an interesting place, an intersection of modernity and ancient roots.  If you know me, you know how much I love textiles and rugs, so exploring the bazaars of Istanbul and Cappadocia was like heaven on earth.  The colorful spices, rich textiles, and handmade goods were pouring out of every nook and cranny- souks are really my happy place!  After a few days, we headed to Cappadocia.  This city is truly the most incredible place that I've ever been.  It's a city built by cavemen, comprised of hundreds of dwellings carved out of valley walls.  The landscape is unlike anything I've ever seen before.  Hot air balloons are flown daily here, and the contrast of the fantasy-like landscape and hundreds of colorful hot air balloons floating over the city is something I could only envision in my dreams.  Our motivation for visiting Cappadocia was to shoot our Resort '16 campaign here, so our photographer Taryn flew out to capture it.  It just so happened that the week we were there was Istanbul Fashion Week, so finding a model to book was nearly impossible.  We ended up having to fly in a model from Greece, and with a major time difference between home and Turkey, communication was difficult and we had to just cross our fingers and pray that the model would show up!  The shoot was total guerilla-style, shooting with a team of three is no easy feat, but we pulled it off because of the kindness from the locals.  We stumbled upon an incredible open-air rug shop in the middle of the city, and the owner generously let us shoot inside, and borrow rugs for some of the shots.  When you're traveling sometimes you have to rely on the kindness of strangers, and each time a helping hand is lent, It's a beautiful reminder of the inherent good we all have as humans.  Cappadocia was so beyond my wildest dreams, between the rich, handmade textiles and crafts, the exotic stone landscape against a spotted sky filled with colorful balloons, and capturing the beauty of the place through our Resort collection made it one of the best travel experiences I've ever had.  
We ended our journey wandering around Amsterdam, the city where Jim and I first fell in love.  We caught up with old friends, wandered around the idyllic city streets, and explored quaint little shops and restaurants. 
The sum of these experiences has left me with an incredible feeling of gratitude unlike anything I've ever felt before.  When I think back on the past eight years, I'm able to see my journey up until now, and I see how each and every experience I've had has connected, leading to this present moment.  When I started Cleobella, it was after Jim and I had returned from a year of traveling.  My intention with manufacturing all of our products in Bali was to be able to create sustainable income for the amazing people I met on our journey while maintaining a travel lifestyle, splitting my time between the States and Indonesia.  Now I realize that my desire to have a lifestyle that allows me to explore the world has been manifested.  To me, part of the beauty of this journey is that it's reminded me that life is full of inspiration if you seek it.  Each country was inspiring in different ways-  the grit of New York, Montauk surf culture, vintage hunting in Parisian flea markets, the grounding nature of connecting with my Irish roots, the vibrancy of the Turkish bazaars….each experience vastly different, yet so full of beauty, inspiration, and meaning.  I'm so grateful that I can share these experiences with my children, and as I watch Keenan and Indigo grow into the people they are meant to become, I know in my heart that these experiences are woven into their souls, and will help form their lives in ways that are yet to be discovered.  Right now, in this moment, I feel an overwhelming love and appreciation for life.  I see beauty, joy, and inspiration everywhere, and I realize that each day is not only a precious gift, but also a new start- the first day of the rest of our lives.  And I can't wait to see what happens next. 
follow us on our next adventure as we head to Bali!  #CBtraveldiaries
Snapchat: @cleobellababes